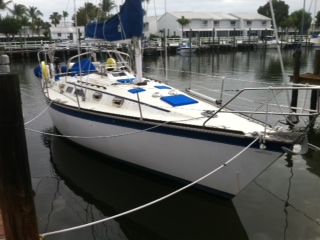 Sometimes it seems that nothing ever goes to plan.  I even had a pretty simple one this time.  Step one was to arrive at the boat and do some serious cleaning.  Interestingly, the shore water faucets had no water. No problem, I'll use on board water. My battery bank was dead.  Ugh.  I plugged into shore power and nothing.  I knocked on the door of the house of the slip owner, no answer. There were piles of newspapers on the front step – hmmm…  I tried calling the owner – phone disconnected.  I was starting to get worried.  I walked around the house looking and found the back door wide open and inside of the house trashed.  What is going on??  I finally found a neighbor to talk to.  The property owner had been put into an assisted living home several months ago and the house seemed to be abandoned and repossession (he thought).  Oh boy… good time to get my boat out of there before the bank took it too!!!!
I was able to "borrow" some electricity and water hose from the neighbor. Phew… finally starting to make progress – half a day later than I had hoped.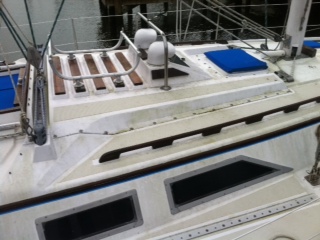 The boat cleaned up nicely.  I used vinegar water and brushes.  Lots of labor got the deck, boom, and mast looking nice again.  It had developed a pretty nasty look between the bird droppings, green stuff (mildew??), dirt, and grime. I should have taken better pictures but forgot. Probably a good thing  – that's like taking pictures of a woman without makeup – they don't like that (usually).
The batteries charged up as expected and engine then fired right up. Thank you!
I had Scott from Dependable Diving (in Fort Myers, FL) come and clean the bottom.  He reported that she was very dirty but cleaned up just fine.  Everything below the water line looked good. He installed new prop shaft zincs for me.
I re-installed the Dodger but the Bimini and wheel/binnacle cover clearly needed to be resewn – off they went to The Loft for some quick work.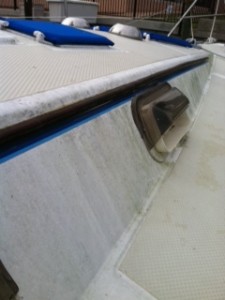 I then toured a couple Marina's here in Fort Myers. Proximity was important as I didn't want to undergo a huge repositioning effort right now.  I found Legacy Marina at my divers recommendation.  I liked it. Seems to be a nice place with a fair price so I scheduled a slip.  The plan is to move there Thursday of this week.  It will take about three hours to motor there. Farther than I'd like and not terribly close to good sailing grounds but the price was right.
So, things are taking longer than 'planned' but they are coming together. The stress level is slowly falling.  I'm trying to enjoy the experience…
(Visited 31 times, 1 visits today)