I LOVE the west!!
I've been itching for a good back country mountain bike ride for awhile but schedule has just not allowed it.  Things opened up for this past weekend and I jumped at the chance.  I decided to give the San Mateo Mountains a shot.
The San Mateo Mountains are about 45 miles west of Socorro, NM and due south of the Very Large Telescope Array (VLA) that was used in the movie Contact (which has been collecting amazing data for decades).  They are relatively gentle mountains that start at about 7000′ and go as high as 10,000′.  The northern end is at the Plains of St. Augustine.  The "relatively gentle" part is kind of important to me when on a bike ride in the mountains. 🙂  The not-so-gentle mountains are spectacular but way too much for my pathetic aerobic condition and bike skills.
I cruised on down Friday night, got a good nights rest, and was ready to roll very early Saturday morning.  My first ride took me south into the Cibola National Forest on Forest Road (FR) 496 and FR 220.  Mostly uphill, for miles, but very pretty!  Total solitude, not a soul to be seen nor heard. In fact, there wasn't even very much wildlife.  The normal crop of birds and a few free-range cattle but very little else. The entire state of New Mexico is extremely dry with fire restrictions in place already (early for this time of year) and this dryness was evident. Nonetheless, being in the mountain forest is simply spectacular to me.  I love the pine forest – it reminds me of where I grew up in Montana.
After what felt like hours of pedaling uphill, I finally reached the top – I hoped!   From my GPS map, I was riding a loop. From riding these forest service roads in the past, I have learned that one never really knows what your going to find.  Sometimes the road just ends, sometimes it splits and the GPS map doesn't show the split, other times you run into a fence (remember this one).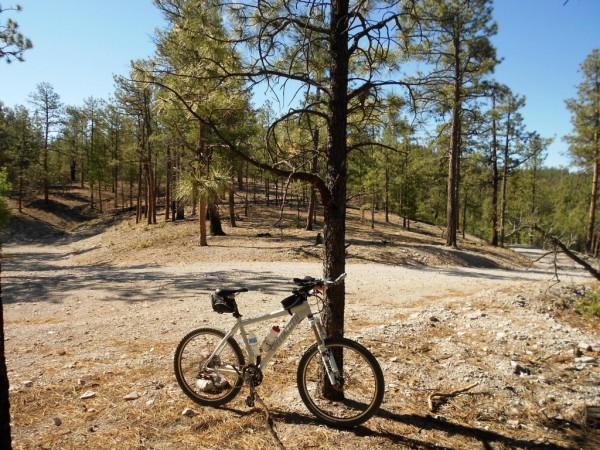 For kicks, I brought by Drift Innovation HD video camera along. I had never recorded a bike ride before so had no real expectations.  Once I started downhill, I started flicking it on.  I am really impressed with the results.  I do realize that watching other people's video is generally not very exciting. However; I thoroughly enjoy my own video's – brings back memories which seem to be far too easily lost.
Since I was on a loop, all the road/trail was new to me.  That always makes it a bit more exciting when your sailing down the mountain and not sure what is around the next bend!  I was generally riding some really great double-track that varied between "gravel road" and 4×4 trail. All of the sudden, a fence!  Worse, it had 'private property' and 'no trespassing' signs all of it.  Ugh.  So, I turned around and starting pedaling back up the mountain.  This lasted for about half a mile.  Yuck – says I – I'm tried up pedaling uphill.  So, I rolled back to the fence, opened it, and crossed thru (and close it again – I definitely subscribe to the 'leave it as you found it' line of thinking).  At this point, the forest road turned into more of a cattle trail than anything else.  Fun riding to be sure!  I never did see where it changed back to forest service land but never crossed another fence so I probably didn't offend anyone too much.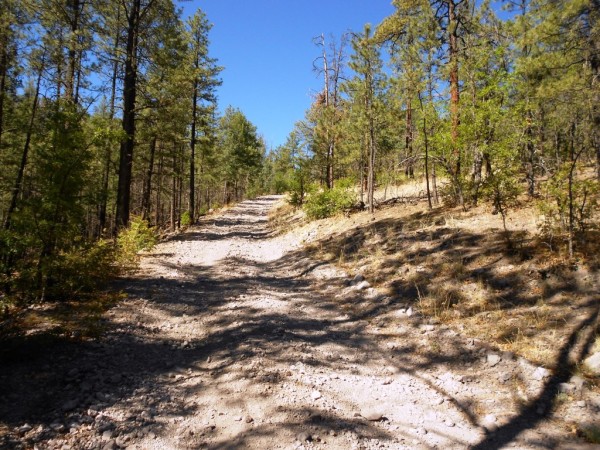 A really neat change that I noticed was exiting the forest. I hadn't really noticed it on the way up – I suppose because I was moving so slowly (and breathing so hard!). The last couple of clips in the video show this, an interesting change in scenery.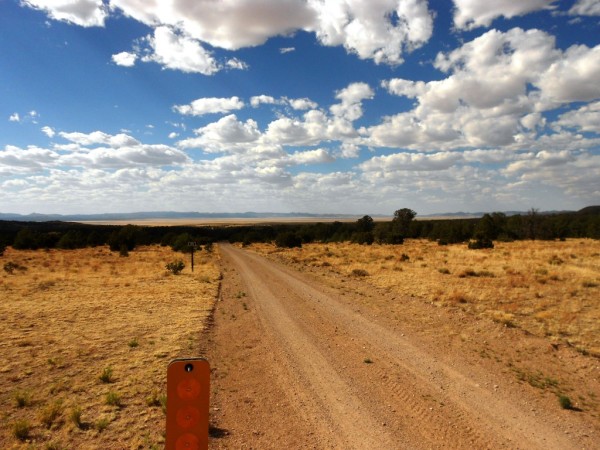 The only negative about the entire bike ride was the flies.  I found at later that this is the time of the year in the spring in which the flies are terrible – and they were!  Nearly drove me insane.  They kinda ruined the camping but you gotta take the good with the bad and enjoy the entire experience.  I've changed quite a lot from a non-camper to someone that really enjoys getting out and enjoying God's creation and this great land of ours!  One really neat factoid: I saw exactly two vehicles the entire weekend!  How kewl is that?!?!
(Visited 147 times, 1 visits today)