The 2014 "Tour of the Rio Grande Valley" (TORGV) was recently held in Albuquerque and I decided to give it a whirl.  I'm glad I did!
Not knowing anyone makes these types of events very difficult for me to get involved with. In spite of that, I forced myself to give it a shot. After all, you'll never meet anyone if you don't engage, right??
The TORGV rolls from the north side of Albuquerque to far south of Belen.  I elected to take the sixty mile route which had me turning around at Los Lunas and very near my home.  Someday, I'm going to do the 100 mile ride but not this week.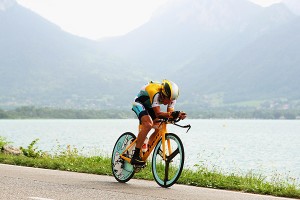 The route was well marked and there were several aid/refreshment stations.  It was somewhat surprising to me but there are a BUNCH of SAG vehicles along the route.  I had a puncture at about the twenty mile point. One vehicle had stopped nearly as soon as I got stopped, another was there within five minutes.  Of course, the riders are all very nice and many asked if I had what I needed to make the repair.  I did and the tube change went very quickly, I was back on the road in no time.
Leaving Albuquerque early in the morning was very enjoyable.  Riding back into town close to noon was not quite so enjoyable.  The automobile traffic had really picked up – I am just not a big fan of riding with cars.  The organizers did a good job with a route that avoids the busiest roads but occasionally one must just deal with it.  In spite of all that, I still missed a couple of turns and added a couple miles to my total.
I am pleased to report a moving time of 3:48 and a 16 mph average (for 60 miles).  Not quite at the pro level but far better than the 12 mph average for two miles that I started with a couple years ago!
Thank you to the TORGV organizers!!  You did a great job with the event and I really enjoyed the ride!
(Visited 25 times, 1 visits today)