Next on the Nissan Murano repair marathon was the vibration.
The behavior was very interesting.  Firstly, it was not really a vibration, it was more like an oscillation.  The wheel would spin or turn back and forth what felt like a quarter inch, but was really only about an eighth of an inch, at a relatively rapid rate. It occurred between 50 and 60 MPH under steady driving conditions only.  It would stop if you turned slightly, pressed the brakes and/or accelerator. It could not be felt anywhere else like the brake pedal, accelerator, seat, or floor.  Kinda weird… Most people first suspect worn brake rotors.  That's reasonable but most commonly occurs when under braking.  Not the case here.
Next is wheel/tire balance or a tire problem. I rotated the front tires to the rear and rears to the front. Interestingly, I could now feel a bit of an unbalance or slight vibration in the vehicle. However; the steering wheel "oscillation" did not change.  I figured the tires may be out of balance or have a problem – they are old and nearing the end of their lives BUT they were not the problem.
This led me to all sorts of theory on CV joints (constant velocity) , suspension component wear, wheel bearings, struts, ball joints, tie rods, and so forth.  All nearly impossible to diagnose by myself and far to expensive to just start replacing parts (which is not a very good approach to troubleshooting anyway).  An item included on the repair list (from a dealership) that was provided with the vehicle was that one of the motor mounts needed replaced (front, passenger side).  I got to looking at it and could not see any obvious failure but it was very "collapsed" – meaning, instead of being sorta centered. The rubber portion was really giving way under the weight of the engine. So, why not…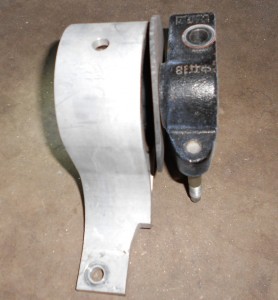 A run to Autozone got me one replacement mount for $160. An easy swap was sure to follow….. NOT!
Easy things are hard and hard things are easy – no, that's not the pattern.  Easy things are hard and hard things are hard unless something really weird happens and it is easy.   I dunno…  In any case, every bolt was easy to access and all but one nearly lept off the vehicle at my bidding. One; however, refused to cooperate.  First, I needed a deep well 14mm socket. I had just sold my large floor toolbox with a whole bunch of stuff in it.  I could see exactly where my impact socket set was… in that toolbox.  Darn!  I did a quick search of Sears.com and found a deep well set of SAE and Metric sockets on sale for $20 – what a deal!  After picking up the sockets, I was once again laying on the floor with socket wrench in hand and overflowing with confidence – what could possibly go wrong now!!  Ha!  I gave the wrench a turn and ugh… that sickening feeling.  In this case, it was the better of the two options – head twisting off the bolt or socket rounding off the corners of the bolt – the latter.  I started calling friends to find a six point socket instead of twelve. A few hours later I had one in hand, same result.
At this point, I usually spend a lot of time staring at the bolt.  I believe some focused attention on the bolt helps it to feel your desire, your passion, and instills fear in the bolt. Once it "feels" your command, it will cooperate – it MUST.
A couple hours of this did not seem to help… 🙁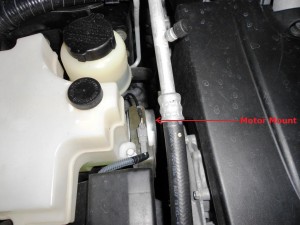 Finally, I got around to trying a box end wrench.  It would still go onto the head and even felt like it had some grip in spite of the rounding off the sockets had given it.  The problem was that there was very little space to turn the wrench and absolutely no way to apply any pressure to it – vertical access only.  Long story short, I was able to wedge in a hammer handle, spare chunk of metal, and a really long socket extension and pry the wrench in the right direction.  Finally – the bolt moved!!  Not very elegant but I had won!! The new mount went into place without any more drama – thankfully.  A tip, you must raise the engine slightly to remove and install the mount. I know, pretty obvious.
The initial road test was surprising.  The "oscillation" in the steering wheel was nearly gone. It is now a hint of it's former self and feels more like a vibration than the wheel spinning back and forth.  However; subsequent drives have left me less confident that the problem is solved. Now I am left to wonder if the other mounts also need replaced or if it really is the tires and effect is more dramatic when they are cold and have sat all night.
UPDATE: 1/7/2012 – I replaced all four tires and the vibration/wheel oscillation is completely gone.  Clearly the motor mount replacement was not the issue. Waste of time?  Probably…
(Visited 227 times, 1 visits today)