I'm pretty happy with myself!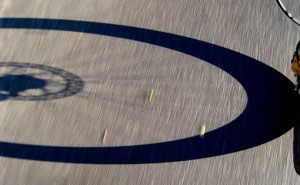 I cycled every day last week but one – that was an on-purpose rest day.  I didn't try to kill myself with pace nor distance but was hoping to get my wrists and arms used to it.
With all that in mind, I pedaled my bike 48 miles last week!  Yay!
I know, guys that are on tour do that in a single day, every day.  I'm ignoring that for now.

I rode ten miles (14 km) on the last day of the week in 43 minutes – just under 14 mph average.  At this rate, I am really keeping my heart rate up and getting a pretty good cardio workout.
I tried a variety of things over the six rides – mostly saddle and handlebar adjustments but also hydration pack versus water bottles and clothing (mostly wicking type polyester fabrics versus cotton).  I don't have any cycling shorts that have the built in seat padding (but some have been ordered).  My backside isn't sore after 40 minutes but it isn't totally comfortable either.  I can imagine that it would not be happy after several hours.
I'm really enjoying the exercise, sunshine, and thinking time!