Great question! I've been doing some thinking about what's next myself.
I've made a mess of things and now need to clean it up.
I've certainly learned a lot and, as Mike recently commented on a previous post, I can probably attribute my recent "boat lesson" to the "tuition of life." From one perspective, the time, money, and energy expended were certainly not wasted. However; the lessons learned sure were expensive. I suppose I should consider myself as having an Ivy League life education now.
I have a lot to make up to a lot of people – work included. I have been thoroughly enjoying my family and friends since being back. That said, I need my own place and that raises the question – what's next?
I really enjoyed my motorhome years – including the two years that I lived in my 2005 Newmar Dutch Star. I'm not excited, at all, about purchasing a traditional home (real estate). That said, building an Earth Ship home does hold a bit of interest. The negative is that once complete, it leaves me sitting in one place – forever. Returning to the full-time RV living lifestyle made sense. So, I started looking around.
I probably should have a four wheel drive truck and truck camper so I can get deep into the back country and enjoy the really quiet spots. However; I just cannot get excited about such a tiny space, limited capacity and limited storage. By capacity, I mean things like electrical power, water storage, places to store my "things", and the ability to haul weight.
I seriously considered a small, off-road trailer to tow behind my Jeep. The problem is that living out of this setup – versus just camping for a week or two – is REALLY tough. Not really what I want – at least from a long-term perspective.
This led me to larger trailers. Again many nice ones but same problems. Plus, trucks sufficient to haul the larger trailers are REALLY expensive!!
I then looked at Class C motorhomes. Many of them are very nice but I was not finding anything that excited me and the same issue existed. Limited space – limited capacity.
I then looked at smaller Class A motorhomes – gassers. Again, many are very nice but still nothing that was excited to me. And again, limited space and capacity. Obviously, for weekend camping, these RV's do have plenty of space. I am talking about full-timing – carrying everything I own with me – all the time. These RV's are VERY weight limited. Once you add fuel, water, and people, there just isn't much capacity for "things."
I then looked at the diesel pushers. I loved the Dutch Star capacity and ride but not the price. I found the same thing this time around. Everything is expensive. Especially when you get away from the "entry level" coaches and focus on the better builds that will hold up to full-time living.
I know many will argue with the above – that's ok – just my opinion about what I saw.
I really want to remain debt free. Pulling out a big loan and getting a slightly used coach for $150k is easy but not what I wanted.
I spent a lot of time thinking really hard about this conundrum. It finally occurred to me that building my own RV might solve several issues. It would:
Give me plenty to do. I like having projects. My only complaint with my Dutch Star is that it was "done" – it didn't need anything from me. This leaves me with lots of time to get myself into trouble – I need to stay busy!
Allow me to remain debt free and contribute to the project as finances allow.
Allow me to create the space and functionality that I wanted and not what the majority of RV buyers want.
Require me to buy some tools! Tools are good!
Ok, seems to make sense to me. However; VERY recent experience has taught me that what "sounds good" and even "makes sense" to me can be really stupid. So, I queried some trusted friends and family.
I heard everything from "you are crazy" to "great idea."
Hmm… I figured that was better than ALL responses being "you are crazy." I kind of took the average and decided that I wasn't COMPLETELY crazy.
So, how does one proceed?
You go buy a big chassis!!
I now have a 1998 MCI EL3 coach. It is a forty-five foot long goliath! She has a 12.7 liter Detroit Diesel engine and Allison B500 transmission.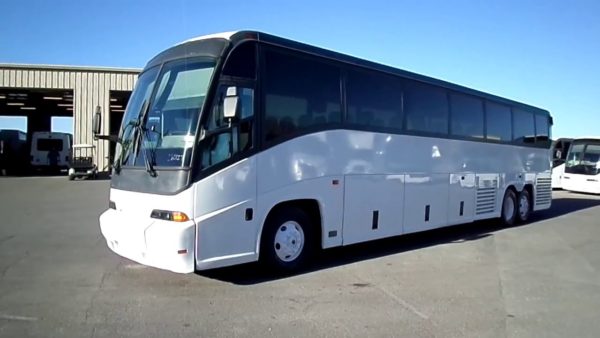 Miles?? Yeah, she has a few. Something like eleven hundred thousand. 🙂
Space?? Yeah, I think she has enough space for me and my stuff. I even think she has a nice "aero" look to her. 🙂
I have lots of work to get it into the desired condition. Ha! That is an understatement!! 🙂
How did this transpire?
With the Internet, of course. Lots of searching and looking and reading and learning. Once I thought I had some idea of what I wanted and what the "desirable" options were, I got serious. I eventually found Las Vegas Bus Sales and struck a deal with them.
Mom had never seen Las Vegas nor many of the amazing sights of the southwest so we flew to Las Vegas on February 14 and stayed at the Mirage. What a beautiful place and beautiful room. We wondered around a bit and walked thru Caesar's Palace so she could get a feel for Vegas.
Mom did ok at the slot machines!  I hope she remembers to report that pull to the IRS!!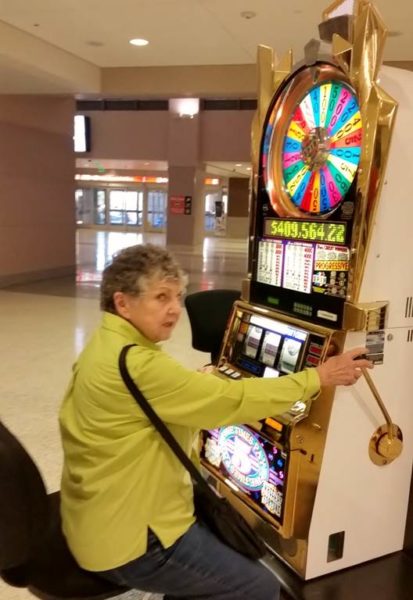 Actually, we neither lost or made any money since we didn't do any gambling. The next day we inspected and test drove the coach. We then started the long drive back to Missouri! What a fantastic test run!
The coach showed 3/4 tank of fuel when we left so we just drove away. We stopped at Hoover Dam and walked out onto the bridge to get a good look.
As we approached Kingman, AZ, the fuel gauge still showed 3/4 full. That is pretty amazing mileage. So, I figured I had better stop and add some. Sure enough, after adding 80 gallons and still not being full, the gauge still showed 3/4 full. I think there was a something to be learned!!
Ah yes… the fuel gauge is inoperative. Thank goodness we did not run out of fuel!!!! That would have been a wonderful experience to add to the journey. 🙁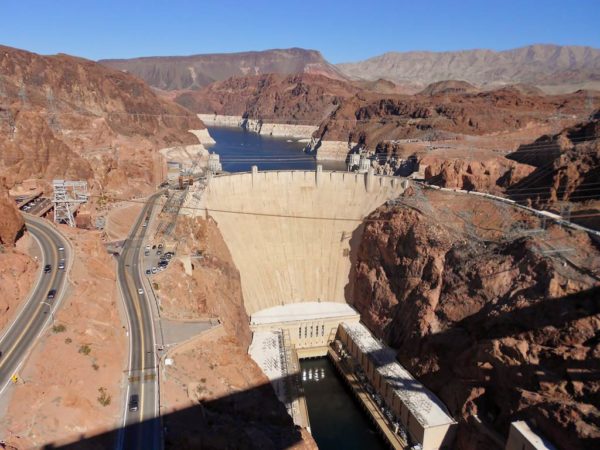 Look closely, the new coach is in the photo below. This is the parking lot at the Hoover Dam that leads to the walkway on the bridge for viewing the dam.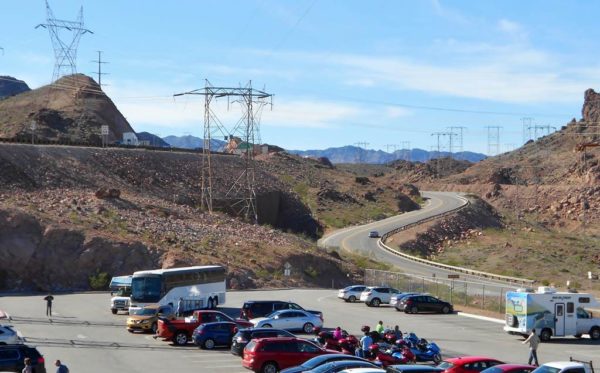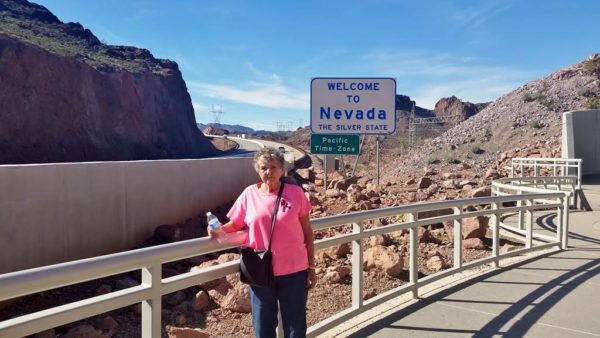 The remainder of the trip to Albuquerque was pretty uneventful. Learning the coach as I went, I really didn't experience any problems. It drives quite well although it is clearly not a brand new vehicle.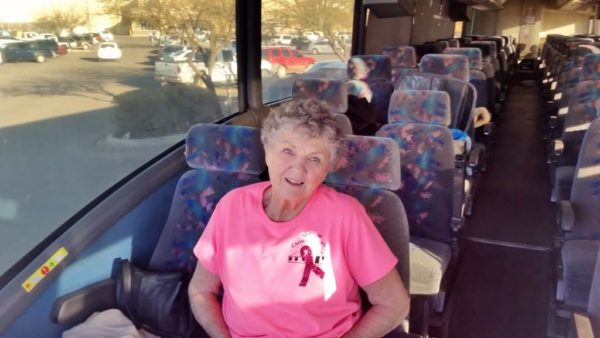 While in Albuquerque, I spent a couple of days vising with some very dear friends which I have missed very much!!  I picked up four 435 watt photovoltaic panels from the same fellow from whom I purchased the 327 watt panels that went on my last two motorhomes. This will give me a total of 1740 watts – 1.7 Kw – of solar power!! WOW! I'm building an all-electric coach so it will be power hungry!! No doubt this solar array will be put to work.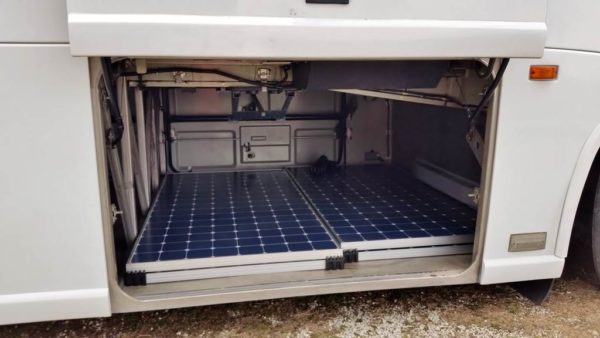 The following is a photo of the interior – clearly a tour bus. Call this the 'starting point' photo.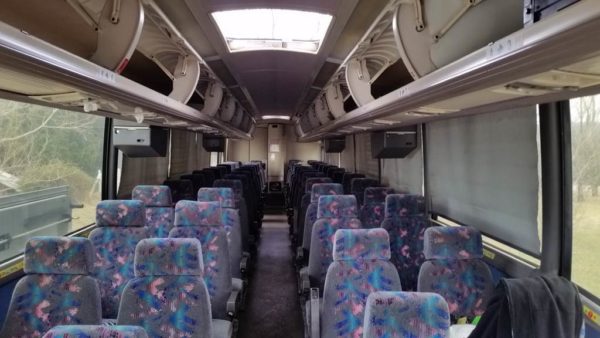 Plans?? Oh yes, I have lots of plans for her!
(Visited 147 times, 1 visits today)