I had hoped to post my VeloBuild R-028 build and impressions on the VeloBuild forum. I attempted the post four different times and it never appeared in the forums. Very strange, I thought. I finally sent an email asking if they could look into the issue. TWO WEEKS after sending that email, I finally have my answer. I've included the full exchange below (in chronological order) so you can judge for yourself.
I was very suspicious when I read Chris's question: "Can i know the information of the post ?"
That indicates to me that they regularly eliminate/delete posts when they do not like the content. However; there is a language difference so I was willing to give them the benefit of the doubt. After receiving Killerbee's response (the last in the exchange), my suspicion was confirmed.
Thanks a lot for rejecting my posts and not bothering to let me know. All forums on which I participate/moderate have the decency to tell the user what was done so they are not left wondering and wasting time like I was.
VeloBuild is clearly in the game of tightly controlling all information about their products and what is presented on their forum. The statement: "we are a one stop information center for our products" is very telling. It is their forum and they can do that if they so desire but, in my opinion, it is an unacceptable business practice. I am happy with the product that I received from them but I cannot recommend that anyone do business with an organization that is intentionally misleading people in an effort to sell products. This amounts to deceptive advertising and there are laws against such things, at least in the USA. Moderation to keep threads on track/subject and preventing aggressive/inflammatory posts is usually a good thing.
The ethical issue aside, I find it quite interesting that it is ok for me to purchase well over a thousand dollars' worth of products from them but it is not ok to post a link to my blog on their forum. A "blog directory"?!? I actually find that to be insulting. This is a basic tenant of good business – I support you, you support me. I invest a tremendous amount of time in my blog trying to provide useful information to people. Ignoring my time, it costs more to host than any ad revenue that it generates. Thus, I am not biased by advertising dollars. VeloBuild seems to want me to invest my time producing advertising material for them to use in their business in addition to me sending them my cash. I guess they do not understand how things work. One would think that having people espousing their products (and the fun/success they are having with them) on their personal blogs would be a positive to the business. A business is much better served by providing a quality product, quality service, and valuing its customers. When this is done, there is no need to control communication as it will be positive and free.  Adding the "Thank you for your purchase." note at the end of all this is nothing more than a final jab in the gut.
Sadly, what this all really points to is that they want to control what is being said about their products – manipulate the reviews and feedback. I didn't see it at first but now, when I read posts on their forum, I can see why the product reviews are so positive. It is because they are controlling them. I've certainly not read every post on the forum but I do not recall having read a single negative review or comment. Clearly, manipulation is involved. That then tells me that they have problems. I don't know where or with what but, given these business practices, it is clear that they exist.
An argument that I suspect they would make against this claim is that they have a lot of uninformed customers complaining about things they don't understand. The answer to this is to respond to these issues quickly and concisely. When this is done, there is transparency, all can learn from the posts, and a good business is validated.
Based on all this, I cannot recommend doing business with VeloBuild.com.
Buyer beware – VeloBuild.com
Here is the email exchange:
From: JD
Sent: Monday, August 4, 2014 6:54 AM
To: 'chris'
Subject: Forum Posts?
 
Hi Chris,
 
I am trying to post on the VeloBuild forum (user "J*****") but my posts are not appearing.  Are they being rejected or something?
 
JD
——————————
From: chris
Sent: Wednesday, August 6, 2014 5:57 PM
To: jd
Subject: Re: RE: Forum Posts?
 
Hello
 
Can i know the information of the post ? Then i will contact controler for this .
Best Regards
Chris
——————————
From: JD
Sent: Thursday, August 7, 2014 5:40 AM
To: 'chris'
Subject: RE: RE: Forum Posts?
 
Chris,
 
The text of my attempted post is as follows.  I also included a link to an image.  I initially attempted to post in the R-028 section and then tried three times in the 'Builder's Reviews and Photos' section.  None have made it onto the forum.
 
JD
 
 
Howdy all,
 
I recently ordered and built an R-028.  I am very happy with it.
 
From time of order to time shipped was one week.  Shipping to the southwest USA took another week including a stop in customs.  In my opinion, this is pretty impressive. I expected to wait closer to a month so was pleased. Shipping was $125.00 so I suppose one could hope for reasonably fast service.  I asked Chris several questions before and after ordering and he always responded pretty quickly (same day).
 
I ordered the 54 cm R-028 frame (which includes fork, seat post, seat post clamp, and headset), carbon cages, carbon stem, and Shimano 105 group set from VeloBuild.  All but the headset were very well packed.  The individual parts of the headset were bouncing around inside the box.  Perhaps U.S. customs did this when they took a look.  This did not seem to cause any damage so no big deal.
 
Carbon 38mm clincher wheels were sourced elsewhere.
 
I wrote up my build here on my blog. 
My first riding impressions are here.
The story of breaking and then repairing it are here.
 
The short summary of the above is that build went smoothly except for a couple small items.  I do my own maintenance but have never built one from parts so I learned a lot putting this bike together. An opportunity to order new tools is always a plus!  The lower headset bearing was a sloppy fit which required a shim to fit in the frame correctly.  The other problem was due to my on lack of understanding that the mounting point on the frame for the derailleur hanger is not in alignment with the axle shaft so the hanger itself must be "tuned" (bent) to provide the proper alignment. The details of that will be posted on my blog soon.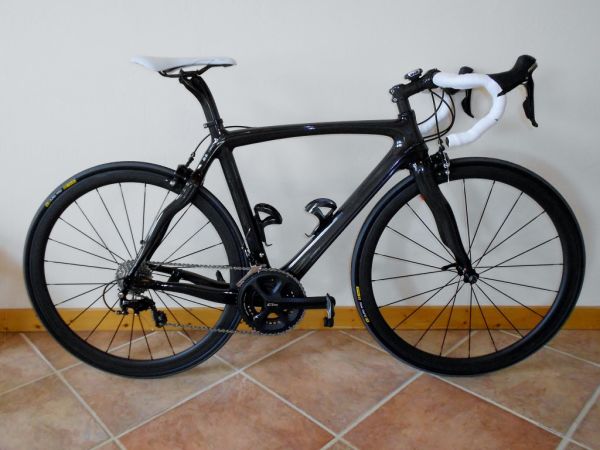 My impressions of the bike are very good. However; I've only ridden one other modern road bike and never ridden an all carbon bike so I am probably the worst person to review any bike. That said, I have found the ride to be VERY smooth. I ride on rural roads that are far from great and this bike really soaks up the harshness of the road. It is more stable than my last bike (aluminum Giant) which was fairly twitchy. That is not to say that the R-028 is hard to turn – it turns very nicely.  I also find the bike to be very comfortable.  Hard acceleration does not feel much different than my Giant. I don't think my cruising speed is any faster but I'm not a racer so no surprise there. 
 
Total build cost was approximately $1900.00. This is pretty much everything except the saddle.  I'm pretty sure a name brand bike all carbon bike would have been at least twice that much so I am happy.
 
JD
——————————
From: JD
Date: 2014-08-07 00:51
To: Chris; Faye
Subject: RE: Forum Posts?
Chris,
 
Any response to this question??
 
I've tried posting the same information three or four times.  Clearly these posts are being rejected by the moderator.  Why??
 
JD
——————————
From: JD
Date: 2014-08-14 01:07
To: chris
Subject: RE: Forum Posts?
Hi Chris,
 
I am truly disappointed. Since it has been a week since I sent the following [above] and I have heard nothing in return, I am left to assume that I have offended the VeloBuild team in some way and my participation on the forum is not desired.  I had really hoped to participate with the other VeloBuild bike owners since I really love my R-028 but it seems that this will not happen.
 
JD
——————————
From: mod
Sent: Wednesday, August 13, 2014 8:44 PM
To: jd; chris
Subject: Re: Fwd: Fw: RE: Forum Posts?
JD,
Sorry for the delay, things are crazy around here this time of year.  We appreciate your response to VeloBuild and we would love to have your full write ups in our forum.  However, we are not a directory of blogs, instead we are a one stop information center for our products.  If we allowed your blog we would have to allow one for each member and that would be very confusing for those who have grown to rely on VeloBuild for all the information at one place.
We also encourage you to use the review ratings in the shopping cart.  Having all the information close and comparable will give the best experience for our members.
I hope you understand.  Thank you for your purchase.
Killerbee
(Visited 6,948 times, 1 visits today)