I started looking at what I needed to do to Missy's wiring to tow my Jeep (and have lights). She did not come setup for towing so this was all new. Nonetheless, wiring is pretty simple so this should be an easy task – hook into a few existing wires and TADA!!
I knew I would need a seven pin connector as that's what my existing umbilical cable requires. So I ordered one.
…wait for the delivery person…
While poking around the lights and generally looking to see what was there and what I had to deal with – I start all my projects this way. 🙂 I noticed her taillights had a lot of movement.
I then noticed that the taillights were barely hanging in place!!
One side had exactly one (of four) screw holding it in. The other side had two wood screws that were screwed into a small chunk of rubber (trying to act as a nut).
A nut! That is exactly who last worked on these lights.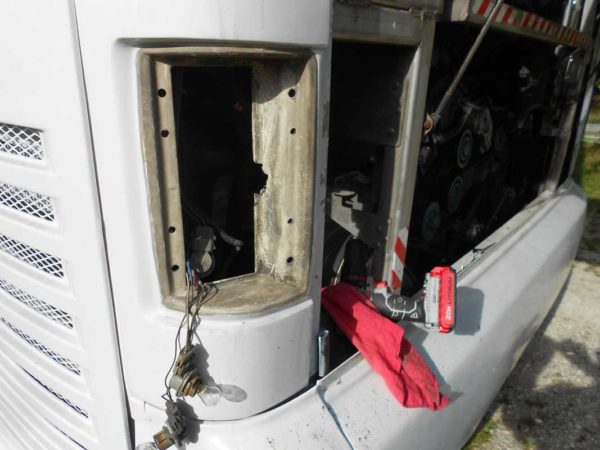 Another trip to see my friend Lowe and I had a handful of shiny new stainless steel 10-24 machine screws, washers, and nuts. In short order, the taillights were back to the way they should be – mounted solidly.
That then took me back to my original purpose – wiring for the tow vehicle. Simple.
No…
Nothing is simple anymore.
It turns out that the 7 pin wire harness that I have lists BOTH the right stop light and right turn signal on one wire – same for the left.
Hmm… My first thought was that I was going to have to custom build a wiring harness/combiner with diodes to prevent current flowing to the wrong things. Yuck… too much work.
Some time spent on the great big world wide web and I discovered that a taillight converter is a common thing and readily available. Apparently, I am not the first to have to deal with this. That nice little box combines the turn signal and brake light signal are combined onto one wire.
So, I ordered another little box for Missy. Not an expensive thing – just unexpected.
…wait for the delivery person…
The details of this might be very, very slightly interesting to some. Most "trailer" harnesses (4, 5, 6, & 7 wire) all use the brake light as the turn signal. If you have a vehicle with which you are towing that has a turn signal light that is not part of the brake light (like all vehicle manufactured in the last few decades) then you need one of these converter boxes.
With converter box in hand, I went back to work. As I was cleaning the dirt and grime off the brake light wires, one of them pulled out of the socket. Ugh… The wiring inside the socket was very corroded and everything metal was falling apart.
Back to the great big world wide web, find the parts, and order everything necessary to replace the light sockets and wiring harness plugs on both sides. S682 pigtail and S787 socket.
…wait for the delivery person…
Back at it again, the brake/running light sockets and harness plugs were wired in place of the old ones. Excellent – shiny new components with tiny little pins/connectors are that are not corroded and falling apart!
Of course, my big clumsy hands working on these tiny wires and components in a tight space is a sure recipe for strange utterances….
And LOTS of wasted connectors.
Oh, speaking of connectors.  I really like the Ancor marine grade connectors.  These have insulation that is shrink wrap with an adhesive inside that is heat activated.  Definitely a quality product.
I'm not sure what is so difficult about butt splice connectors. When working in very tight places, I have a TERRIBLE time getting all the wires AND the crimper in the right place at the right time. I used to try and save the connectors by gently prying them open again… mostly likely only to squeeze the crimper at the wrong time… again. Now.. I just throw it away and grab a new one.
Finally, we get to the point of hooking up the Jeep to see what happens.
The result – not great.
The Jeep lights will blink but the brake lights will not illuminate. I messed with this for several hours and then it occurred to me. Missy is setup so her rear turn signals flash when the engine is running and transmission is in park. I'm not sure why, but they do.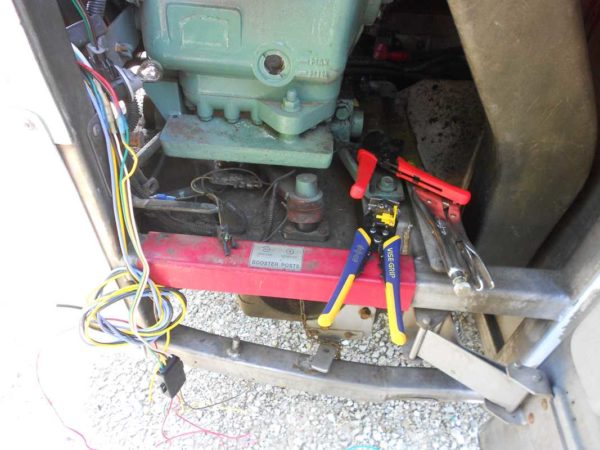 You guessed it. The converter box thinks this is a turn signal "signal" and not a brake signal. So, applying the brake when in park basically gets you nothing – at least on the Jeep. I know… this makes little sense unless you can see it.
After messing with this for far too many hours and getting some help to sit in the driver seat with the parking brake off so I could see what was happening in the back I noticed that my marker (running) lights were no longer working.
Doh!! I really hate it when that happens.
So, many more hours tracing wires and trying to figure out what happened. By the way, Missy does not use many fuses. Instead, she has automatically resetting breakers built into the harness. Even that took a while to figure out.
What was it? I finally found a wire from the three-position headlight switch had come out of the connector. This is the wire that leads to the marker light relay.
I now know a LOT more about Missy's electrical system and I have working tail lights on my tow vehicle. I keep reminding myself that these painful lessons are actually very good lessons and, in time, I will look back with fond memories and a thorough understanding of how she works!! 🙂
(Visited 71 times, 1 visits today)