This is a GREAT book and thornless to boot!
It's real title is "The Gentleman's Guide to Passages South" by Bruce Van Sant. It has become known as the "Thornless Path To Windward" as it is a guide to making a smooth journey thru "the thorny path".  To a sailor, the thorny path is (basically) the route from the east coast of the United States to the Virgin Islands thru the Bahamas.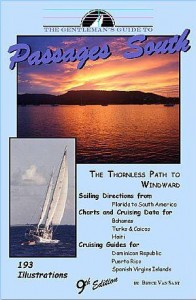 Before purchasing this book I heard some mixed comments about it. The comments were mostly about the way the book was written and/or the author more than about the information it contains.  I must say that I love Bruce's very direct and honest writing style.  He does not mince words or sugar coat things. He is very clear about what this book is and what it is not intended to be.
"A book of plainspoken, straightforward skinny unsoftened by perhapses and maybes has resulted. If you think it dogmatic or opinionated, you shall miss the systematic solutions proposed."
The author covers a lot of topics. The obvious are weather, picking passage weather windows, anchorages, currents, and approaches. The not so obvious include information on how to function in an entirely different culture than what most of us are accustomed,  "spang-lish" (Spanish language for an English speaking person), fishing, recipes, and ground tackle.
I learned a TREMENDOUS amount.  I thought I knew a fair amount about weather from my pilot/aviation experiences.  However; some of my sailing experiences have left me feeling that I am missing something (about the weather). This book has brought some of what I didn't know to light.  Knowing what the weather is now or will be in the future doesn't do you any good if you don't know how to interpret that information AND use it to your sailing advantage.   Bruce provides a treasure chest of knowledge to educate the reader so that they can read the weather so that the best windows can be selected for passages. The goal, of course, is for enjoyable passages made in safe and comfortable conditions.  A point that is stressed often is that a very flexible schedule is a necessity to achieve this goal.
I am far from an expert… hmm… let me restate – I am a complete novice. Nonetheless, I am really excited to exploit and better understand this new found information. This book is most certainly one to have at hand while crossing the thorny path.
This book is available from Amazon.com at the following URL. Purchasing thru this site helps me to achieve my sailing dreams so Thank You!
Bruce has a web site here at which you can read more about him and his offerings.
(Visited 89 times, 1 visits today)