My travels took me to Las Vegas, NV last week. Not for vacation but for work. I decided to stay at the Oasis Las Vegas RV Resort which is just a bit south of McCarran Airport.
Getting into the resort is very easy. It is just off the I-15 and the turn lanes are extremely wide. The resort has a very pretty entry gate but it is right in the middle of a ninety degree turn so definitely not ideal. However; it is manageable for big and long rigs.
Entering the resort is quite spectacular – very pretty with the palm trees, greenery, and glass faced registration/clubhouse/pool building. They have big parking spaces (about ten) for registration purposes – very nice! I had a reservation so registration was quick and painless. I was given a very good map and directions to my site which worked perfectly.
Everything at my site was in order and worked without any issues. The site was plenty wide and level. Like most of the southwest, the site was zero-scaped with rocks but there were a couple plants (of some sort) growing. The parking pad was concrete.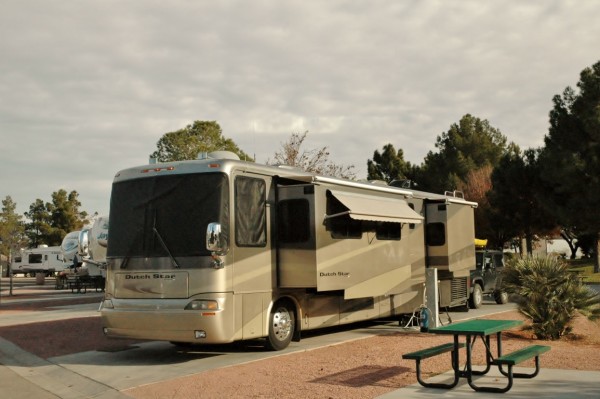 I spent a week at Oasis so had a good bit of time to explore during my multiple walks each day. The resort was not full but almost – probably about 85% full. In spite of this, it was a relatively quiet place. With so many people and the proximity to the freeway and airport, I expected a lot more noise. Thankfully, I was wrong. During the entire week, I heard only one car drive by with the radio blasting and found only one camper sitting outside with the radio blasting (like everyone enjoys the same music as these people). No yapping dogs, screaming children, adults shouting at each other over the camp fire, etc. I did see the resort security patrolling very regularly and this may have had something to do with it.
The resort offers Wifi, of course. As a VERY early riser, I found that the Wifi worked pretty well until about 9 am and then started acting up. There were a couple days that I was able to use it until early afternoon. For the most part, it was totally useless in the late afternoon and evenings. Keep in mind, I am only browsing and emailing.
I did not use the bathroom, shower, or laundry facilities but there were several of them spaced around the resort. There were many trash cans spread throughout the resort and they were emptied every day. Oh, I also did not use the pool but like most things in Vegas, it was a big deal – not a typical swimming pool!
Based on all this, I definitely give the Oasis Las Vegas RV Resort a thumbs up if you like this style camping and don't mind paying the fees to support it.
(Visited 105 times, 1 visits today)