I relocated a day or two ago.
The campground was "pleasant" but you guys know me… Too many people, too much noise. Yadda… yadda… yadda…
That said, I met a really nice couple that were interested in Missy so they got the nickel tour. It is an amazingly small world – he was attending Ohio State at approximately the same time I was (many years ago…). We had a number of other things in common as well. Pretty kewl!
The thing I will miss about the campground are the little chipmunks scurrying about. The kids scurrying about on the rocks, not so much.
I'm still in the Medicine Bow National Forest but now in a nice, quiet, "dispersed camping" area.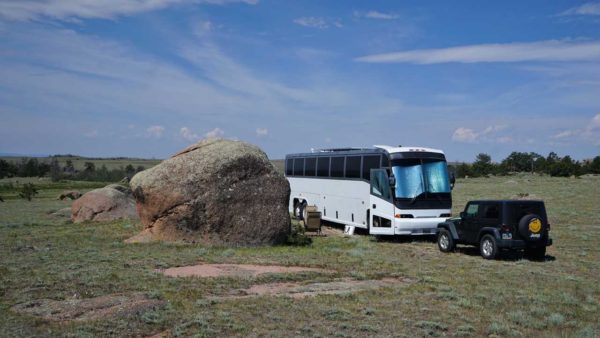 That is a big rock!
I do believe this is a first for Missy. She has dry camped on property owned by friends and family, even a parking lot or two but no "true" forest boondocking. Until this week!! So, this is a pretty cool deal for her.
She has a neat little feature in her air suspension – an option for a "low ride" or "high ride" position. Driving into the site on dirt/logging roads, I chose the "high ride" position which is 4″ above normal. That worked really slick – not that the roads were bad but good experience for when they are. She looks a bit like a jacked up 4×4 when in the high position. 🙂
I would not want to annoy those of you suffering down in the summer heat and humidity but I've been a bit cold the last couple nights. This morning, the thermometer said 54 degrees! Brrr…. Poor me.
Oh… Ok – IT FELT WONDERFUL!!! 🙂 Us guys with lots of relaxed muscle REALLY appreciate the cooler temperatures.
I had a couple of deer visit me early this morning. The fan in the Wagan 5000 watt inverter that I have cycles on and off. It is slightly annoying to me. It was obvious that the deer heard it and was bothered by it. That settles it, a quieter inverter is now mandatory.
Oh!! I spotted Bullwinkle a day or two ago while driving around the forest!! I've never seen a Moose in the wild so a first for me. However; I did not see Rocky flying around anywhere. Apologies for the terrible photo of the Moose, the only camera that I had with me was my phone. How smart is that… 🙁 I guess I'm still getting back into the routine.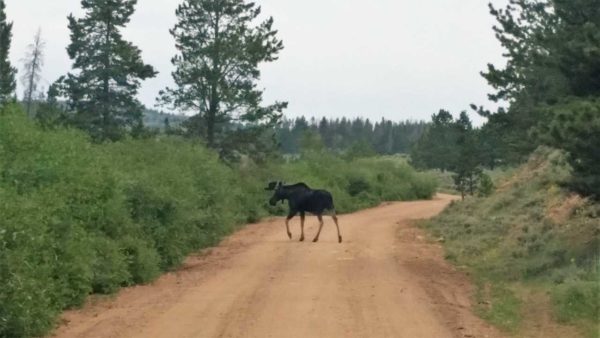 Finally, another project complete. The hot/cold water lines have been plumbed to the bathroom and kitchen faucets and the bathroom sink/faucet is fully operational!! This included some rework of the drain lines too.  Water is flowing from the faucet in the photo below – you must look closely.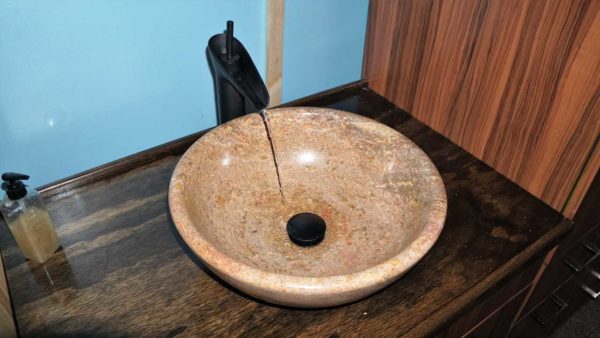 (Visited 100 times, 1 visits today)