Now that I have kitchen cabinets and flooring, it is time for a kitchen countertop!
I went looking and found lots of options – even several that I liked. Given the colors already in the coach, a light countertop seems to be in order but a dark one would certainly work as well.
I found a "solid surface" material that was pretty neat. Like most people, I love the look of Granite but I'm not in love with how it feels when setting glass on it. All that I found had the same problem – CO$T. As in several thousand dollars. I didn't like any of them THAT much. I also considered a butcher block top – I still like this idea.
Eventually I decided to construct a simple/cheap wood countertop until I come across what I really want.  Let's call this "Act One."
Another run to the home improvement store and I had the materials in hand. I used the finest cheap plywood that money would buy – or at least that I could find – 11/32″ birch. Two sections of that felt very solid (and plenty heavy). Poplar planks for the edging and mini-backsplash. That reminds me…
Yes, I wanted that window in front of the kitchen counter to be open. I like the idea of standing at the counter preparing dinner and/or doing dishes and being able to see outside. That window is also 'open-able' to get some air movement. Thus; I needed something to prevent stuff from rolling off and ending up between the cabinet and the wall – never to be seen again. I came up with a little raised edge trim, about one inch tall.
Back to the materials – none of the wood I selected is particularly great for what I was building. It was cheap though – and cheap for a temporary solution is always nice. No wasting of oak or maple here!
Some measuring, cutting, screwing, staining, polyurethane'ing and I had a countertop. Oh wait… no I didn't.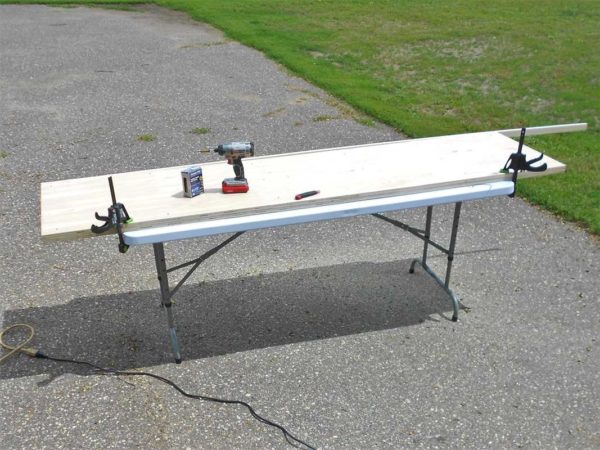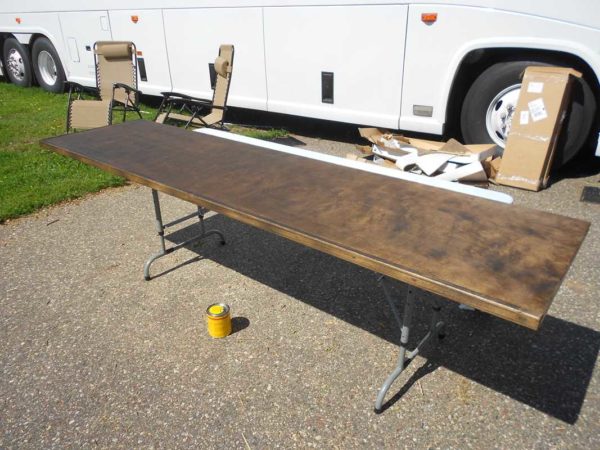 I tried a new urethane product called "Triple Coat." It was advertised as self-leveling and each coat was equivalent to three coats of typical urethane. It was TERRIBLE! I applied the first coat with a brush – as suggested – and it left HUGE uneven brush marks. I tried a second coat – which never helps – and it didn't help… So, out came the sandpaper and a whole bunch of sanding ensued. NOT what I was wanting to do… So, I will be returning what is left of the can of "Triple Coat" and hoping the manufacturer gets the message.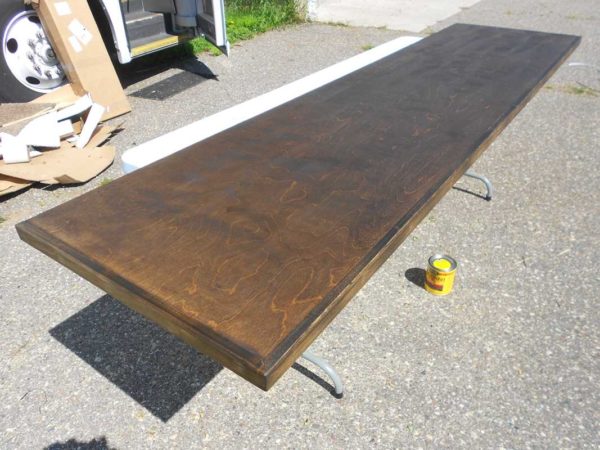 After all the sanding, I applied a couple coats of typical, run of the mill, polyurethane and the top came out disappointingly "ok." Temporary! I keep telling myself – it is a temporary countertop!! 🙁
THEN I had a countertop!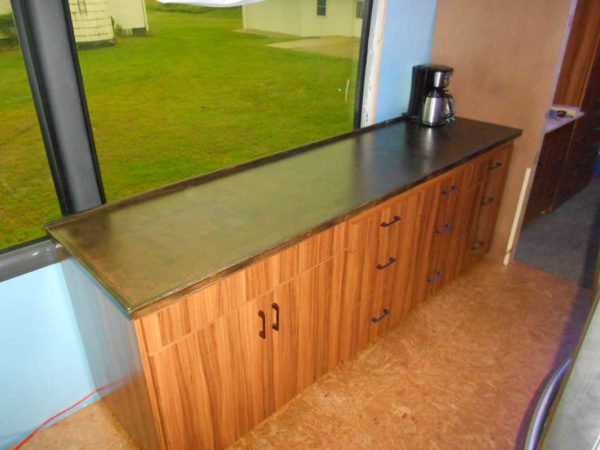 I originally thought a dark countertop would best match the rest of the design. Now that it is in, I am definitely leaning towards a lighter color – something that ties in with the floor. Not that the dark looks bad.
Where is the stove? – you might ask…
I have a NuWave induction cooktop.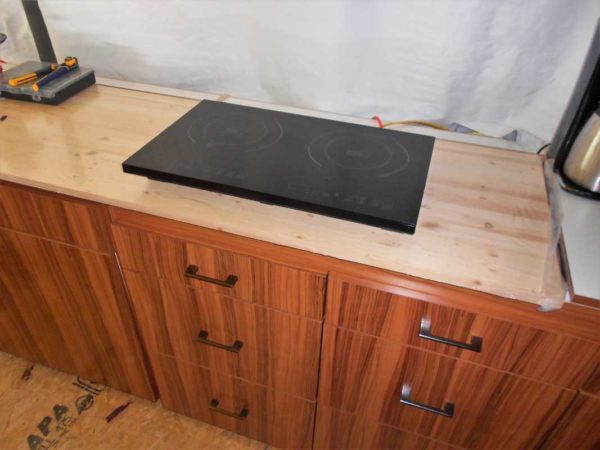 When I purchased it, I had to decide if I wanted the flush mount style or the "sit on top of the counter" style.  I went with the latter as the percentage of time that it is in use is very, very small.  I figured I could slide this one into a drawer and only pull it out when needed giving me lots of additional counter space to use the remainder of the time.
Where is the sink? – you might ask…
It is on its way.  The first one that I ordered did not look at all like the photos so I returned it.  The second attempt is en-route – as is the faucet.  Once they are in, I'll post some photos.
(Visited 81 times, 1 visits today)