YES! The cabinets are here!
And they look FANTASTIC!!!
Ohh… before I forget – I added an update on Missy operation to the last post.  She came thru her three days of surgery just fine.  The front end feels much better (tighter) and that will be a good thing in heavy traffic (that's the only place it really felt like a problem).
Back to the cabinets…
Marshfield's Custom Cabinets in Kimball, MN did an amazing job designing and building these cabinets for me. I am SUPER happy with their work. They were even able to squeeze me in under a fairly tight timeline.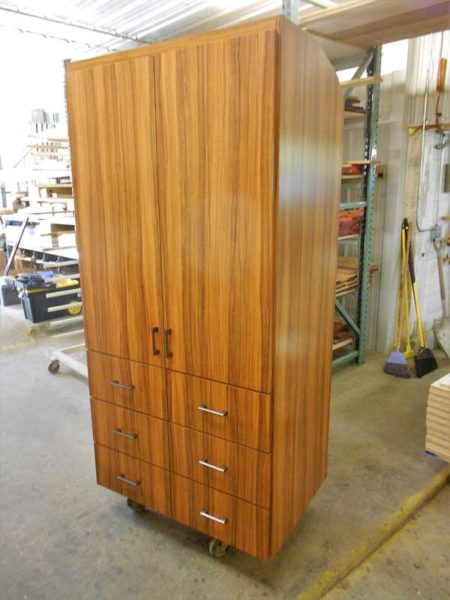 Several folks asked how I got the refrigerator and couch in.  Well… the same way we loaded the cabinets – thru a side window!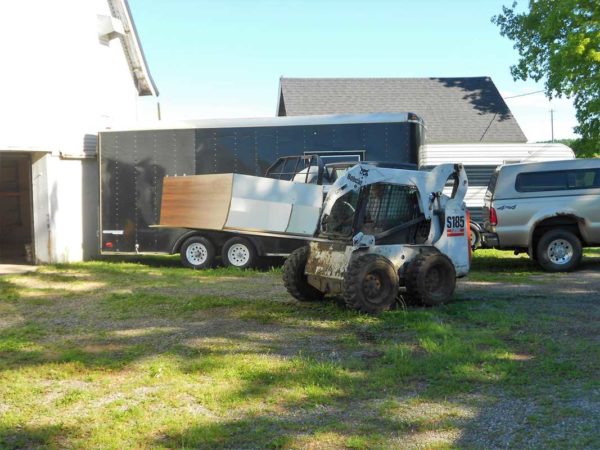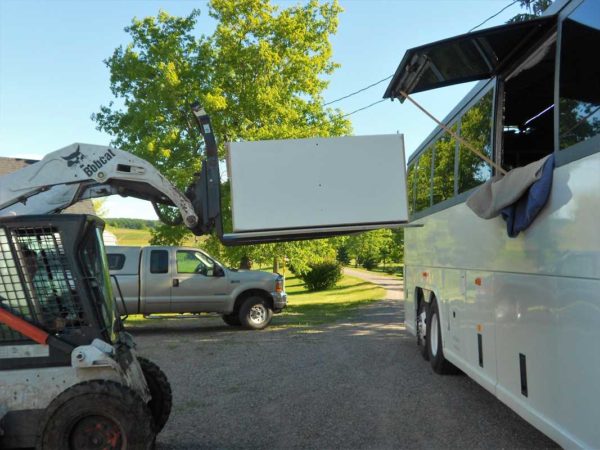 This project has been underway for several weeks and required a lot of thinking, playing with layout options, and looking at hundreds/thousands of woods/colors/styles. I'm not a right-brain type of person so those decisions are very hard. In the end, I think I received enough help/guidance/suggestions to end up with a really great looking product.
They are veneered oiled olivewood. All the drawers and doors have soft close hardware and they feel great!!  I have an 8′ long kitchen sink "base" (mostly drawers), a ceiling height "pantry" (next to the refrigerator), a bathroom sink/drawer unit, and a wardrobe/storage unit.
Of course, the cabinets are not actually "installed" yet. I still have much work to do to get that accomplished – including more insulation on the walls, building a couple stub walls – one with a pocket door, wiring, plumbing, etc. But that doesn't matter right now – I am just relishing their beauty!!
All of them have bases and bottom drawers (that are not in the following photos).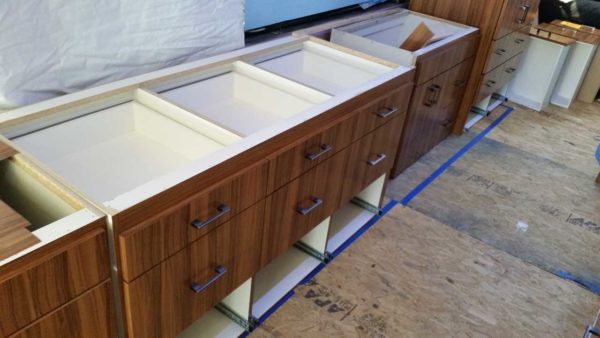 The "hole" in the pantry cabinet (as opposed to panty cabinet) is for a microwave.  The top door to the right of the microwave "hole" will be contain all(??) of the house control and monitoring electronics. Things like the water pump switch, Lithium battery computer screen, solar panel charge controller monitor, dump valve switch, hot water heater switch, inverter switch, and so forth…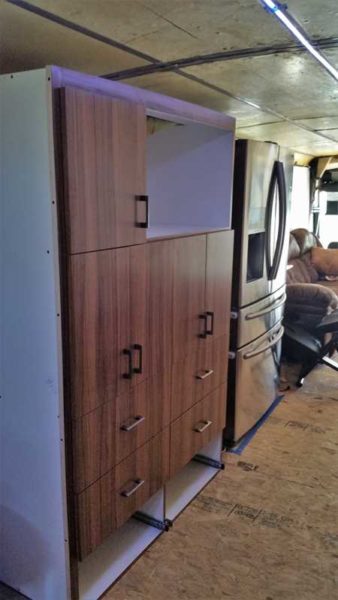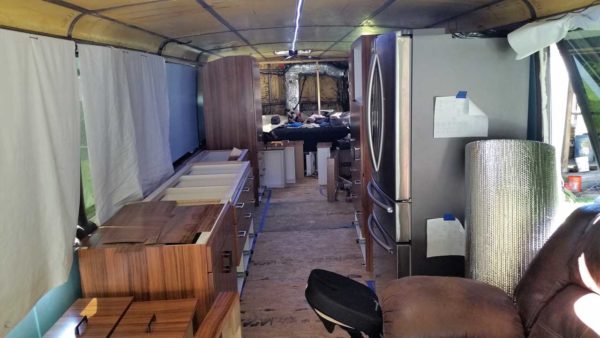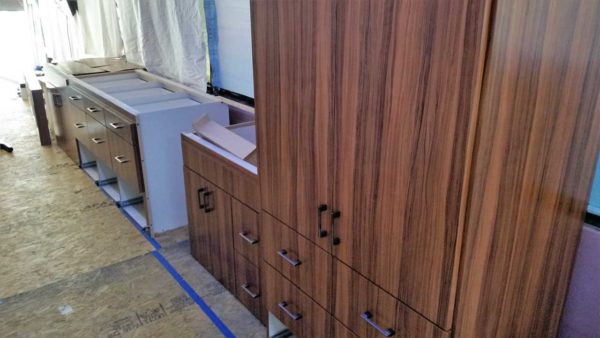 Obviously, it has only just begun….  (remember that song – The Carpenters, if I remember correctly)
Now I must decide on counter tops, sinks, faucets, flooring, wall coverings, window coverings, etc… that all work well together… Ugh…
I told you guys this project was going to take a LONG, LONG time! Especially given my synchronous nature!
In the meantime, having cabinets in which to put some of my stuff will be a wonderful improvement!!
(Visited 91 times, 1 visits today)