Some months ago, FatCylist.com posted a very interesting article on his relationships with his bicycles. I totally get that! As I thought about my years, I found the same sort of thing. I decided to document that history because, as I thought thru it, I experienced some strong feelings and really great memories. Shoot, I even talk to my bikes. It's ok, I've been tested….
My mom tells me that I started riding bicycles at 3 years old.  We lived in a very small western town and she says I would take off and ride around town all day.  I don't remember my early bikes but I do remember lots of riding!
#1 My Dad and I built my first REAL bike when I was about ten years old (about 1978). It was an old Schwinn banana seat bike that we converted to BMX. Got rid of the banana seat, sissy bar, and big swooping bars. Went thru every bearing and even painted it. It was a real hot rod for a young kid. My parents were divorced so spending a week with my Dad and building this bike was a real treat, I remember it like it was yesterday! I love working on bikes and wonder if this is the reason.
#2 I worked my tail off mowing yards all summer and bought a Raleigh BMX bike when I was about thirteen or fourteen (about 1982). I started racing BMX with it and quickly learned what I really needed. Knocked out my front teeth by doing a face plant on the asphalt while practicing wheelies (self-taught, lousy instructor…).
#3 The Raleigh above slowly transformed, one part at a time as I could afford it, into a full blown chrome GT BMX bike with some really awesome parts (remember the Stu Thompson bar and Pro Neck stem?? No more stripped bars!). I raced this bike two years (about '83 to '85) and loved every second (even the occasional painful ones). I kept this bike a long time, even let my little sister ride it for a number of years. My own children rode it for a while. After they lost interest, I sold it, mostly because it was in the way – I think that was about 2008.
#4 Schwinn Impact Pro mountain bike. Bought this brand new in about 1991. Was a great bike. Commuted to work on it for a couple years then lost interest, life got in the way. It waited until three years ago (about 2011) when I started riding again. I rode it nearly a thousand miles that first summer back on the bike.
#5 Specialized Rockhopper purchased from Craigslist in 2012. I think it is about a 2006 model year. Rode this on road and trail until I decided I wanted to try a road bike (largely due to the exploits of Elden at FatCyclist.com).
#6 Giant OCR 3 purchased from Craigslist in 2013. Aluminum frame, carbon fork road bike. A really fun ride. I learned that I loved road cycling on this bike. The only thing I didn't like was how harsh the ride was – particularly on cracked and/or chip-sealed roads. I made a number of small improvements to this bike but didn't fully understand some of the ergonomic issues until later. Not issues with the bike – issues with fit and how various components can make a difference.
#7 Chinese carbon road bike – a Pinarello Dogma clone. I built this bike myself in the summer of 2014. Used the new Shimano 5800 105 group, carbon wheels, carbon bar, etc… It is a blast to ride and beautiful to look at. The ride is much better than the previous aluminum bike – it really soaks up the road buzz. One of thing that makes this bike so much fun as it wants to GO! It is hard to describe but as soon as you hop on it is rolling. It is nearly impossible to pedal on a level surface in a low gear as it just takes off and you are left spinning (unless you shift up). I've not ridden many carbon road bikes so I have no ability to judge but I sure like this one!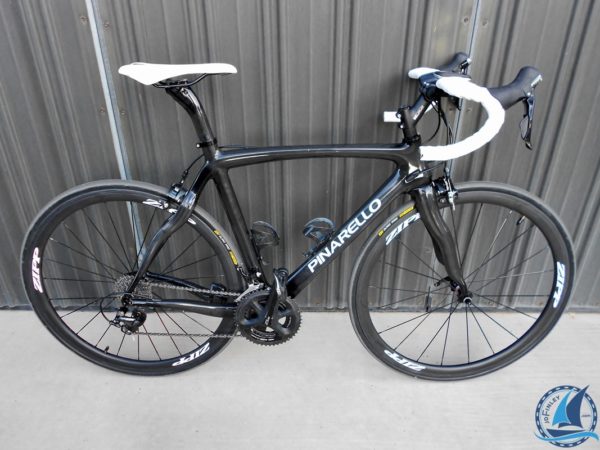 Due to my arm issues, I recently installed a stem and bar that both have some rise. This takes a bit of the sexiness away but it was necessary to keep riding with a messed up arm.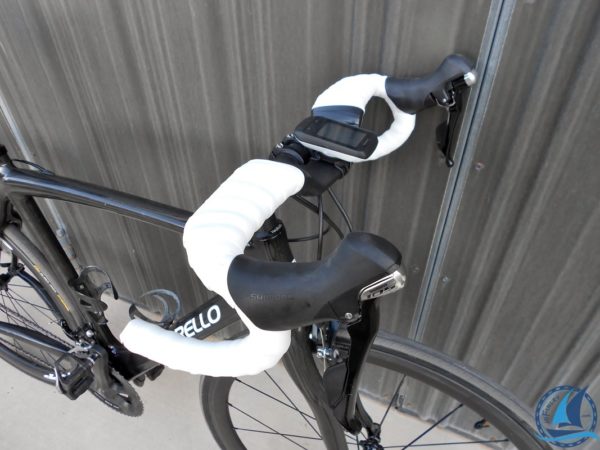 #8 2013 Specialized Stumpjumper FSR Comp purchased from eBay (fall 2014). My first full suspension mountain bike. I purchased this while healing from a broken arm (road bike accident) for a couple of reasons.  I knew I wanted a new mountain bike but I also needed some motivation. My arm injuries were REALLY dragging me down and I needed something to pull me thru. Call it retail therapy. I thoroughly enjoy this bike. It took me a while to figure out how to ride it on the trails – a full suspension is different than a hard tail. I've switched to tubeless tires and flats seem to be a thing of the past. Sadly, I have never really pushed this bike (due to the arm) so I really do not know its full capabilities.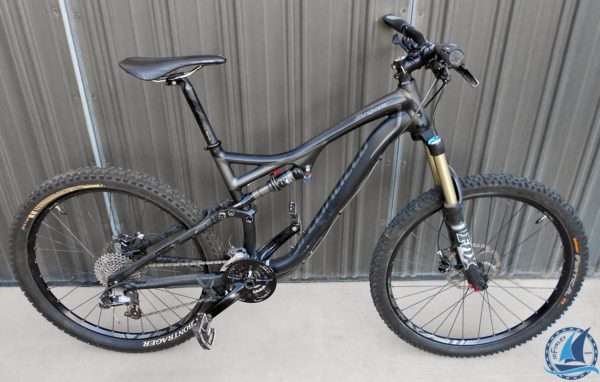 So, that is the history of the bike and me.  There has not been a lot of bikes in my past but definitely some goodies!
(Visited 114 times, 1 visits today)