Whether it is obvious or not (from my lack of posts), I have been sitting around doing absolutely nothing. The fun-to-suck ration is not good.
My frustration level is about as high as it gets but I am REALLY trying to follow my doctors' orders. By the way, I saw him this week and I am in a brace now. I am allowed to begin moving my arm but NOT allowed to put any stress on it (like using weights and/or lifting things). Progress is good but oh so slow…
While doing nothing, I've been watching a friend become interested in an e-bike and doing a bit of learning with him.
An e-bike, from my perspective, is a traditional bicycle with an electric motor and battery pack that assists the rider and shares the load. There are some that do all the work and there is no need for the rider to pedal at all but our research has been on the other side of the fence which is the pedal-assist world.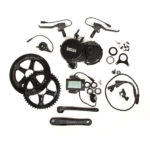 My friend purchased a new Montague Paratrooper and the Bafang mid-mount pedal assist kit. It was a nice looking kit and seemed to go together pretty easily. The folding bike aspect was very important to him but I realize that is not for everyone.
Obviously, an e-bike is NOT for the weight-weenies. These motors and batteries are HEAVY!
Out of the box, the system seems to work very well – I have been impressed with his reports. However; it does seem that at least some configuration is necessary to get the electronics to work the way he would like them to. That configuration has proven to be a bit of a challenge as a special cable is required and the learning curve is pretty steep. This is bleeding edge though so I suppose one should expect that.
I can certainly see the appeal of an e-bike. The ability for a person to ride many times further than they could under their own power or simply allow them to ride in places where they normally could not (hills) is quite compelling. I know there is much "consternation" about these "cheaters" but anything to get more people on bicycles and active seems like a pretty good thing to me. The fact that these bikes do not make any noise is a huge plus as far as I am concerned. I suspect the weight of motors and batteries will come down as the industry progresses and the e-bike will become the norm at some point down the road.
It is fun to sit back and watch technology move forward!
(Visited 82 times, 1 visits today)