Where do I work??
A common question from those that know I live and work full time in my motor home. Here is the answer.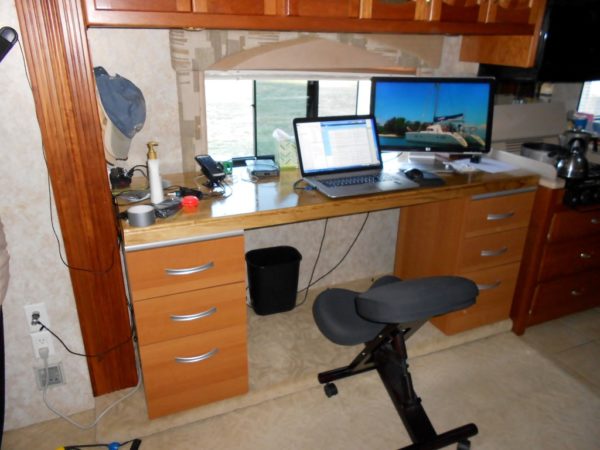 This space was originally consumed by a jackknife sofa. Since I really don't need seating space for twenty people nor sleeping pace for ten, I was happy to pull it out and replace with a computer desk.
I must work from a kneeling chair or else my back will reject me. This requires a fairly tall desk/work surface. I looked for a desk that would fit the available space and was tall but didn't find what I needed so I made my own.
Obviously, I am not a finish carpenter or craftsman!! 🙂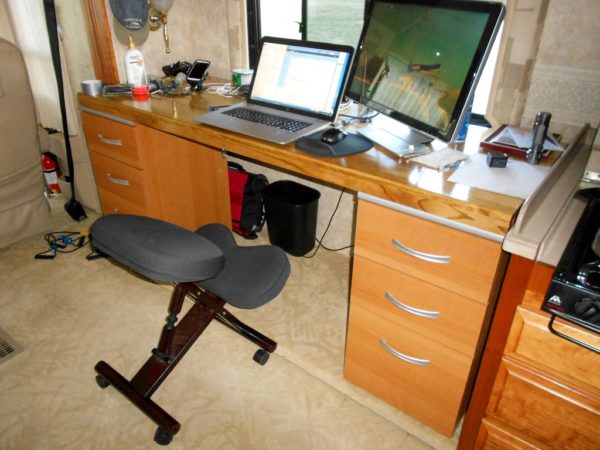 However, what I came up with works quite well for me. I just wish it matched all the other wood in the coach.
It is simply made from two free standing drawer units, a glued pine panel, some trim, and some drawer catches. Very simple and the catches do a good job keeping the drawers closed when moving. The view out the passenger side window is nearly always fantastic and the awning shields that window from the sun.
So, where do I work? At my desk, of course!
At least when I am not sitting outside in fresh mountain breeze!
(Visited 402 times, 1 visits today)