I am currently in the Curecanti National Recreation Area a little west of Gunnison, CO. The National Park Service says the following about the area:
"Curecanti National Recreation Area is a series of three reservoirs along the once wild Gunnison River. The reservoirs that make up Curecanti today are a destination for water-based recreation high in the Rocky Mountains. Best known for salmon and trout fishing, Curecanti also offers opportunities for hiking, boating, camping, and bird watching."
This area is fairly high at 7,500′ so it is not hot! Given how beautiful the trees are, I think winter is just around the corner!
As I was driving into the area, over one of the passes, I crested the rise and was greeted with a VERY IMPRESSIVE sight! A big puff of wind had just blown thru a large stand of Aspen trees. The bright golden yellow leaves were blowing all over and the sun was intensifying the color. The sight is one that I hope to never forget!
I am camped at the Elk Creek campground. This is a big four loop campground but due to the time of the season, only two loops are open. Not many folks here either, maybe a dozen at most. The only real negative with the area is that the Verizon cellular signal is not all that good. I am able to occasionally get 3G signal with only my phone. My tablet has no success at all. With my tall antenna and amplifier, I am able to get a reasonably reliable 3G signal but it is neither fast nor reliable (drops and reconnects pretty regularly).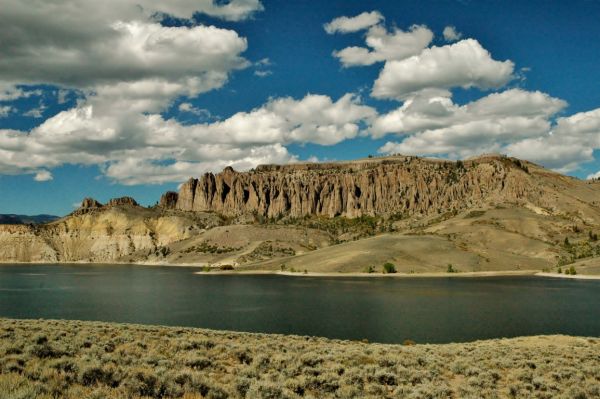 I've scouted a number of the small campgrounds located around the area and they all seem to have mighty small spots. Many of them are tent sights. I suspect you'd be pretty lucky to get a small Class C into very many of them.
There are some amazing sights in the area – you just have to get out and find them!
It appears that there is some good mountain biking near Gunnison. Sadly, my current "injury status" prevents me from giving them a try. Definitely bummed!
(Visited 50 times, 1 visits today)