I spent last week in Colorado Springs, CO visiting two of my boys.
The visit was fantastic!  The leaving seems to get more and more difficult.  Sure was great to see them and get caught up on their lives.
I decided last week that it was time to get a roommate.  The boys and I stopped in at a cat adoption place and found a number of possibilities.
The next day I went to the Colorado Springs Humane Society by myself.  It was one VERY busy place.  I looked at every cat in the front display area and then learned that they had dozen's more in the back. Off I went!
It took 2-3 hours but eventually settled on a gorgeous gray male, about 3 years old, named Carsten. He was not neutered.  Talking to the folks in the back they said I could have that done later if I wanted or not at all, my choice.  I then learned that the place was so busy as they were having a promotion on all cats – basically free adoption.  Lucky me.  They told me that the line to complete that paperwork was about two hours long.  So… wait… wait… wait…
Finally it was my turn.  The lady said that he had to be neutered before I could take him and started looking at her surgical schedule for the following week.
I said… 'uhm… I'm leaving town tomorrow morning so we'll just skip that.'
She said 'uhm, no, it is required by Colorado State Law.'
So, after trying to make it work, I had to get up and walk out.  Terribly sorry Carsten, I hope you find a good home soon…
I was seriously bummed. Nearly a whole day wasted and yet another "human interaction" that was totally negative.  I don't know why I bother – they nearly always end up that way.  This was after a MASSIVELY negative experience at Bass Pro Shop with my boys. It was so bad, I will never set foot in any of their stores ever again.  Maybe I'll tell you about it at some point.
Wow!  Lots of negative – sorry about that.  Last week really was a great week!!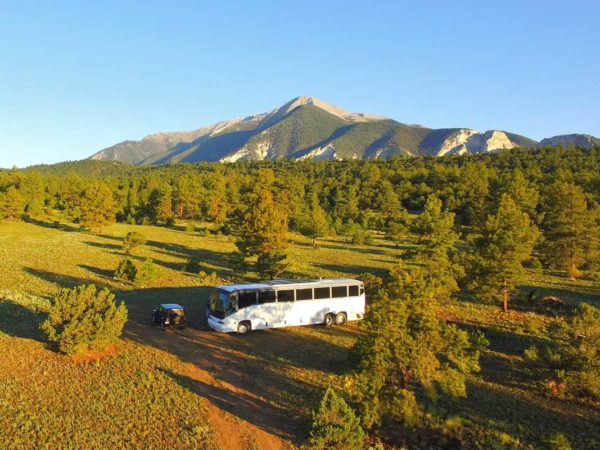 I am now sitting high in the Colorado mountains in a spectacular spot that I have previously visited.  The drive from Colorado Springs past the Royal Gorge and up thru Salida is always spectacular.  I was VERY surprised at the Arkansas river!  Last time I saw it (late in the fall) it looked like a nice fly-fishing river.  Right now – it looks like a great/frightening white water rapids rafting river!  You would not catch me out their fishing or kayaking… though the rafting deal looks like fun!
It was 52 degrees this morning – felt so good!! 🙂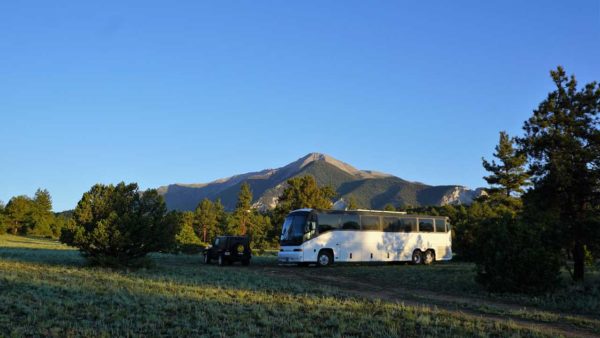 Oh yes… I suppose I should comment on Golden Eagle Campground at which I stayed in Colorado Springs…
It is on the far south end of town along state highway 115, right beside Fort Carson so expect some Army Fort type sounds (revelry, small arms fire, etc.).
It is worth noting that I am NOT an RV park guy.  From their website, this one had the makings of a campground more than an RV park.
I would certainly not discouraging staying at Golden Eagle but suggest you be prepared.  The road in is fairly tight with some sharp turns. Right on the edge of not-possible in a big rig.  The roads inside the campground are similar – some fairly tight turns.
I ended up in a spot right beside the playground – not good for a noise nazi. The sites are far from level but manageable. The hookups are perhaps the strangest bit – I'm not even sure how to describe.  One electrical pedestal for two sites – so you may have to run your electrical cord way around to the 'wrong' side.  The spot I had was very long and the water connection, sewer connection, and electrical connections were all a long ways from each other.  I didn't even bother trying to hook up water and sewer – too far away.  The spots are somewhat "terraced" so the space in between that is typically for sitting and relaxing is almost too steep to do so (it sure was at my site).  I saw several people sitting in the drive portion of the site just to have a place to sit. I seemed to be parked in a bit of a run-off area and it was fairly wet and muddy the whole time.
Obviously, not all the sites are the same. I only used their wifi for checking email and it was sufficient.
On the positive, the check in staff was nice and helpful, bathroom/shower house was clean, it was void of typical city noise, quiet at night, and a pretty relaxing place overall.  Sorry, didn't take any photos.  Having too much fun with my kids!
(Visited 86 times, 1 visits today)