Removing the original lavatory left a big gaping hole in the back of the coach. It needed closed.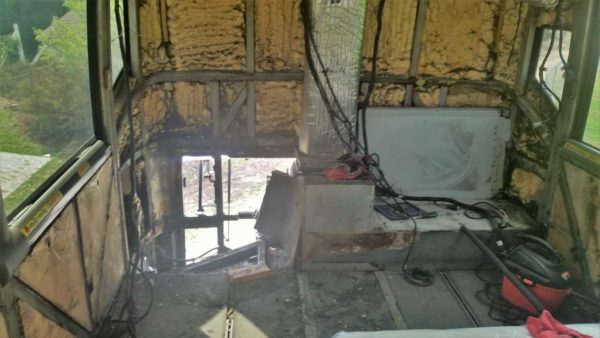 I had planned to build a new "insert" over this hole but I no longer have access to a sheet metal shear or brake so I knew I would be unhappy with whatever I cobbled together. So, I decided to reuse the old "shell" (or insert).
As excited as I was to remove the old lavatory, putting part of it back was a bit of a disappointment. Nonetheless; it was the right answer as it is a very complex shape.
After patching the holes that were there for the toilet functions, and cleaning it up, it was dropped back into the hole at the back of the bus.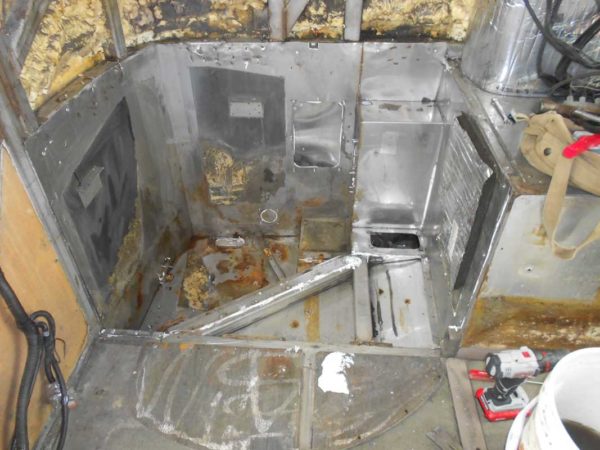 When I removed it, it was clear that a good bit of "gook" (engine exhaust, oily mist, etc. had been leaking into the bus – mostly around the edges. So, I attempted to prevent this by using lots of sealant – everywhere – including my shoes, shorts, shirt and gloves.
Soundproofing mat was then applied to the entire thing and I used this mat to further ensure that there were no leaks.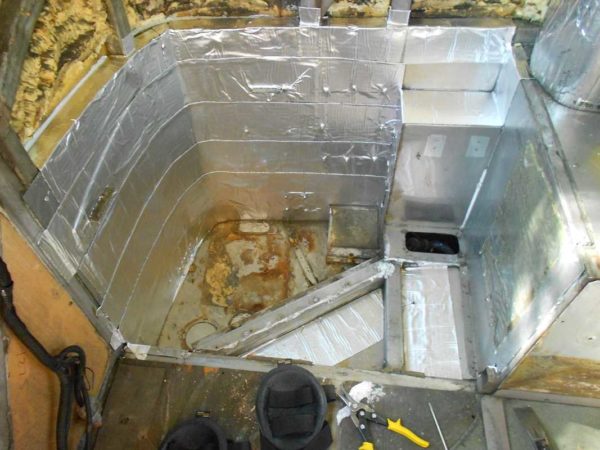 Next, I built another wood frame for new flooring to sit on. This area will be part of a large closet and I'll be standing in some areas and mounting cabinets/drawers in others. This "tub" in the floor is totally wasted space. It is kind of sad. The good news is that it is back in the engine compartment where its use is pretty limited. Still sad…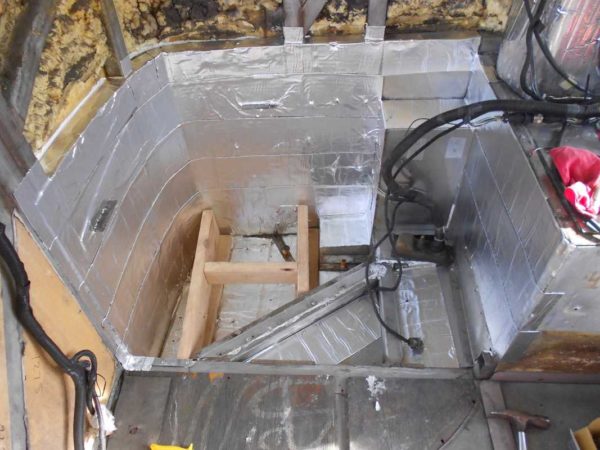 Then I a filled the voids with insulation. Temperature is always a consideration but back here, so is noise from the engine. Anything that can be done to minimize that noise is worth doing. Well, anything that is affordable.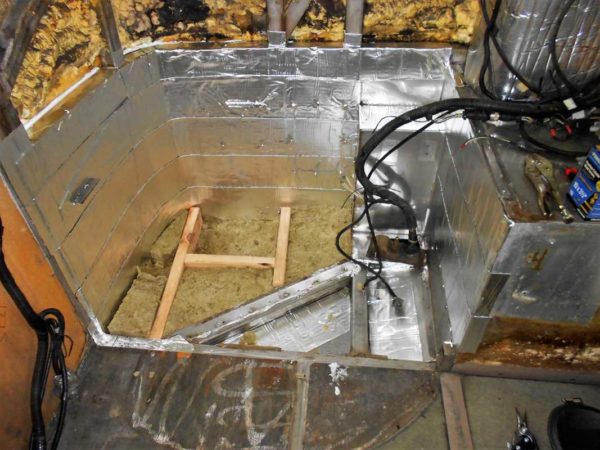 I cannot mark it off the list as "done" yet but it is pretty close!
Oh… you can only see white sealant in certain places as I had to buy more part way thru and accidentally purchased clear.  It hides in the photos pretty well.  Actually, it hides when installing it – kind of like drawing with invisible ink.  Thus; I got more of it on my shoes, shorts, shirt and gloves.
(Visited 85 times, 2 visits today)