The other day while watching Tour de France race coverage (and pouting that I was under doctors' orders NOT to ride my bike (see this) I spotted Levi Leipheimer (a fellow Montanan) in a commercial about his Fondo (Levi's GranFondo). Something was "interesting" about his bike. I had to freeze and slow-mo back and forth to figure it out. He had a bar (handlebar that swooped UP from the stem and then flattened out. That is very different for a modern road bike – the bar on most bikes are either level or drop slightly.
I do not have the words to explain how badly I want to get back to cycling! The whole accident, broken arm, arm surgeries, and healing experience has really taken its toll on me – both physically and mentally.  Anything that looks like it will help me to get back on my bike is of significant interest!
Hmm, says I! That might REALLY help my "left arm won't straighten and has no strength, the other arm gets exhausted really fast because it is doing all the work" problem! A bar like that would result in a slightly more upright position – I already have a goofy stem that has maximum rise – taking some pressure off the arms.  The real negative of this stem is that it is aluminum – my other carbon fiber stems looks much kewler!  Whatever get's me back on the bike – right – right – right!
As much as I would like to return to cycling just as before, I am beginning to believe my life will never be the same and I need to begin making adjustments. I can either give up cycling all together or find an approach that works for the new me.
Not being interested in the "give it up" option, I did some research and found that Levi was riding a Specialized Venge ViAS Di2. My first thought was that I should order one right away!
Then I got to thinking that, with a super-bike like that – a very, very fast bike, I may just become a super-fast cyclist! Of course, this would mean transitioning to pro cycling. I would have all the contractual issues, being part of a super team, traveling the entire planet competing in the grand tours and generally add stress to my life. LOTS of stress.
Plus, this is a $15k bike!!
While probably not a decision that my admiring fans will appreciate, I decided not to order this bike and force such radical changes into my life.
I took the only action that any self-respecting frugalmeister could take. I starting looking on eBay for an inexpensive Chinese knockoff (of the carbon bar with a rise thing, not the whole bike!).
And!!
I found something!
A carbon fiber bar that sorta resembles the Venge bar with the rise from the center stem mount. I quickly ordered the 440mm width version (I have broad shoulders).
It is a bit odd looking. Part of that odd-ness is the very "aero" shape of it. Nonetheless; I do like it! Plus, anything that allows me to spend significant time on my bike again (once I have my surgeons approval) is a MAJOR win in my book. At least until my left arm has a tricep and some strength again (see, still hopeful thinking!).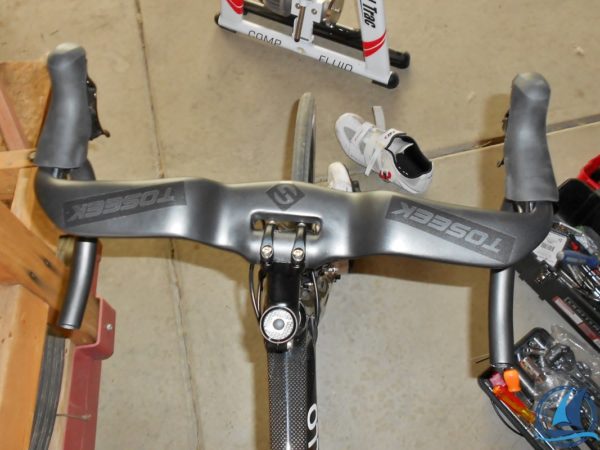 For anyone that has not done a bar swap on a modern road bike, be prepared, it is some work. I won't get into the details but you have to de-cable the bike. That is not a big deal if you can keep from fraying the ends of the cables and enjoy re-tuning your shifting. I ordered a new cable kit as I figured I would need at least a longer front brake housing/cable. Also a bar tape kit.
As soon as the new bar arrived, I was on it like flies on stink. The bar looked very neat. The new bar was on in short order and all cables re-installed. The shifter tuning took a bit longer.  I have not yet wrapped the bar as it always takes me a few rides to decide on the perfect location of the shifters.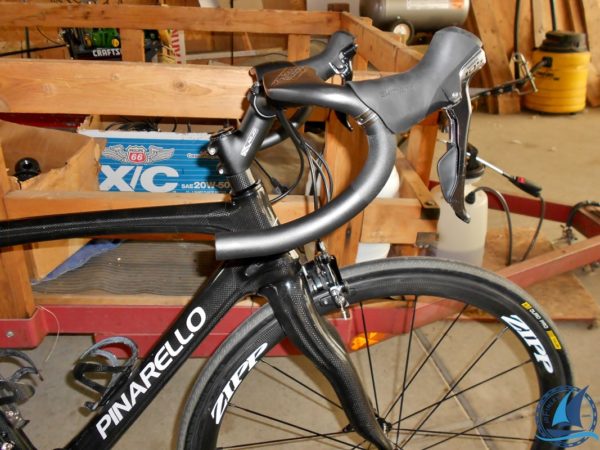 So, how does it feel???
It feels really good! Between the goofy stem and the bar, I seem to have achieved much more upright position than I had previous to my arm injury. I'm not able to ride it yet – doctor's orders – but I have sat on it and I think the change is going to help.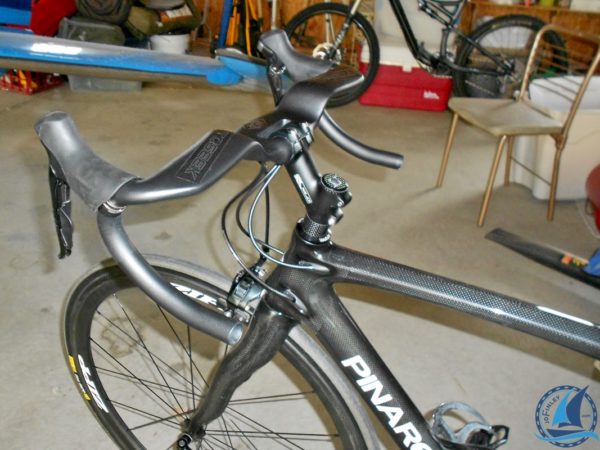 (Visited 325 times, 1 visits today)