I wear glasses. I've worn them since the fifth grade. I don't like them.
I've worn contacts since late in high school. They are better than glasses but still a nuisance. Of course, I have some astigmatism so I get the more expensive contacts.
Back when I had a wife, picking out glasses wasn't quite so difficult as there was someone to help that really did care how they looked.  Picking them out by myself was an impossible task – I couldn't see, I have no taste (even if I could see what I was looking at), and I wasn't sure the staff could be trusted as they were always steering me to the more expensive frames.
Years and years ago this whole 'fix your eyeballs with a laser' thing came about. I LOVED that idea. However; it was expensive and scary (to me). Since I didn't have any money, it was any easy option to not even consider.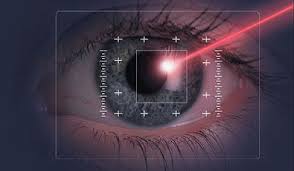 Lately, the money I've been spending on glasses and contacts has really started bugging me. Prescription glasses, prescription sun glasses, contacts, regular sunglasses for when wearing contacts, and on and on. Of course, the laser vision correction industry has come a long ways, has proven to be very safe, and the price has dropped.
So, I did it. I scheduled an appointment with Lasik Plus in Albuquerque to see if I qualified for the surgery.
I did and a little more than a week later, I had both eyes "fixed."
I was amazed the day I walked out of their office and I'm still amazed weeks later. I CAN SEE!
The procedure is amazingly quick and painless. I think it takes something like 12 minutes once you are in the laser operating room. You see some fairly bright lights in your eyes but no discomfort – other than some pressure (which really isn't bad). You are then told to go home, close your eyes, and take a nap.
During this "nap time" – I did experience a burning sensation in my eyes. I should have taken a Tylenol earlier than I did – even before I went in for the appointment. Once that was working, all was well. A few hours later, all of that was gone.
At my three week checkup, I was seeing 20/15. WOW! I am impressed!
Laser vision correction really works!
Now… how do I go about getting my arm fixed???? 🙁
(Visited 59 times, 1 visits today)