With the help of my interior design consultants, the decision was made to go with a tile floor for bathroom and shower floor.  Of course, picking out the colors was the hardest decision – at least for me!  Good thing I had help.
Under the tile floor, a Schluter Ditra heat system has been installed. This includes an underlayment that is the separation layer between the tile and the sub-floor as well as a "matrix" in which the heating wires and temperature sensors are installed. I purchased this 43 square foot Schluter kit from Amazon.
I know… I know… A heated bathroom tile floor is certainly not a necessity. However; I'm old – according to my doctor – and deserve to be pampered from time to time – according to me! 🙂
The heat system is pretty easy to install, the directions are good. When you have a bit extra heating wire like I did, it can be a challenge to find a place for all of it – it cannot be shortened. This required several attempts to find a pattern that would use all of the wire. My advice, purchase the kit that comes the closest to your total floor size without going over/larger.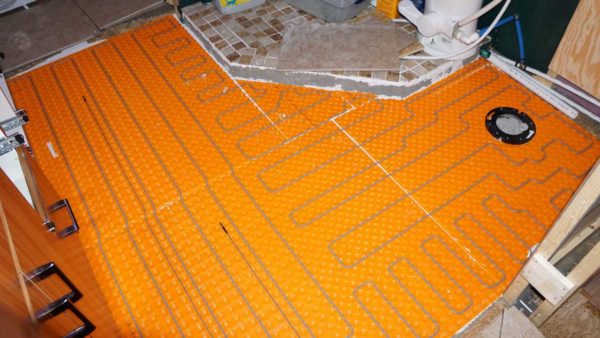 Once the Schluter Ditra heat system is installed, one simply installs the tile on top of it.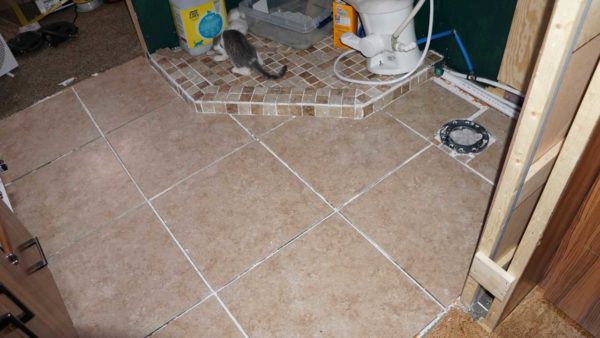 Simply… right…
I spent a good bit of time cutting and fitting tiles BEFORE mixing the thinset and starting the tile installation. Nonetheless; once the installation started, I still had a number of tiles that would not fit correctly. GRRRrrrr….
The bathroom tile floor are 18″ square Roman Stone Noce porcelain tiles from Lowes.
The shower tile floor are 'Rio Mesa Desert Sand.'
The wall tile will be 'Nantucket' light brown peel-and-stick vinyl tile. I went this route for the wall primarily to save weight. I'd love to have tile on the wall but tile is very heavy and saving weight in an RV is always a good thing.
For such a small bathroom, this tile floor has been a project and a half!!
There are several things with the tile floor about which I am not happy. The tiles that didn't fit correctly and the resulting less than arrow straight lines are right at the top of the list. I also had to get creative with the shower drain. I'm still not sure if I should have done what I did…. But… it is done. Actually, I'm sure I should not have done it. If it doesn't leak for a couple years, I'll be satisfied (and probably ready for a bathroom re-model by that point! 🙂
Lots still to do – the wall tile, the shower enclosure glass, shower faucet, and lots of trim work…  Remember my sister??? Slow and steady…. 🙂
(Visited 99 times, 1 visits today)