Yes, an apple is out to kill me…
I've told a couple people this tale of woe and very few believe me. This is a true story.
I've eaten apples my whole life. A few years ago, I ate one just like normal. I don't remember what kind it was – probably a green one cause that's what I used to buy.
A short while after eating it, I felt like someone has stabbed me in the center of my back with a big knife!
It was PAINFUL!
I did not know what was going on and was very scared. I almost called 911 but I couldn't bring myself to do it. The pain probably lasted twenty minutes, maybe a bit more.
The next time I began to eat an apple, I felt an odd but familiar sensation starting – in my back. I stopped eating immediately. And guess what… that horrible pain occurred again. This time I tried a variety of things – laying down, jumping up and down, drinking milk, taking ant-acid, brushing my teeth, eating a cracker, trying to beat myself on the back (which is fairly difficult), etc. Nothing seemed to help. However; putting more things down my throat was definitely wrong. Very soon I would be choking over whatever I swallowed. It was not fun.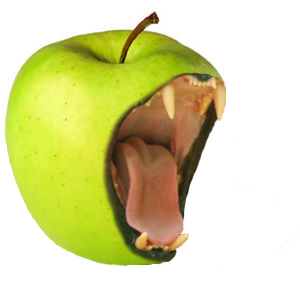 Since I am a big baby, I really did not like these experiences.
I experimented a couple more times with just one or two bites of apple. Each time the same pain started to appear again.
Thankfully, apple pie does not seem to bother me. However; I am extremely careful with it and only have small slices. HA – right!!
I told people and they laughed at me. NOBODY is allergic, or whatever, to an APPLE. After all, an apple a day keeps the doctor away.
Not in my case…
So, I don't eat apples.
Last time I was at the store, they had big lushes red cherries on sale. I bought TWO POUNDS of them. YUMMM!!
I ate two of them.
Guess what!?!?
Yep. INTENSE PAIN!!
What is this? Is it an allergy? Why am I not allergic to something "bad" like Snickers bars, potato chips, or pop-tarts??
I would love to hear some ideas.
(Visited 107 times, 1 visits today)