There are a tremendous number of people interested in the financial aspect of full-time RV living so I have decided to publish my expenses for 2015. However; these numbers do not represent one full year. I started full-timing on March 26, 2015 so the following represents my 280 days – just over nine months – and 7600 miles of experience.
First, a bunch of explanation…
I fully understand that not everyone (in fact, very few) want to live the way I want to live. Many people need other people, need constant interaction, and so forth. I prefer to be out in nature, by myself. I don't mind a few others being around as long as they have the same "approach" that I have. Once they fire up a big noisy construction site generator, start shouting at each other over the campfire, blasting music, or leave their campsite lit up light a football stadium, I am gone. I am in nature FOR nature – I enjoy the peace and quiet – I enjoy the sounds of nature (the wind blowing thru the trees, the birds singing, the sound of a rushing stream or river, etc.), I even enjoy sitting outside in the dark watching the stars.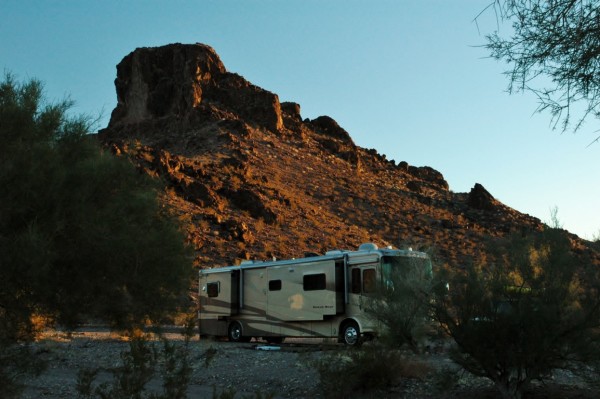 I made two trips this year that were work related. Both of them required a large number of miles and stays at relatively expensive campsites/resorts (to be close to where the meetings/activities were occurring) that I would have never stayed at normally. I split out the expenses of these camp site stays as they were not typical.
When I mention "inexpensive living" to people, I am occasionally "accused" of living "without utilities" or living a "miserable and uncomfortable life" without heat, hot water, air conditioning, TV, cold drinks, or even cooked food. This is far from the truth – I am living a life of luxury. I no longer have a hot tub but I certainly have hot water, ice in my drinks, plenty of hot coffee every morning and I even take warm showers. Most mornings I look outside and see a fantastic sunrise over truly beautiful countryside. That said, I am no longer living the life of waste that our modern society expects of people (at least here in North America). Consuming a massive amount of resources to heat/cool a huge volume of space that goes largely unused, keeping a big tank full of water hot and waiting for the occasional use, leaving countless lights running day and night, using fresh water like there is an endless supply and so on. My solar charging system provides nearly all of the electrical power that I need so I consume very little diesel generating power.
I categorized RV maintenance expenses into required and enhancement/improvement categories. This is largely because I was curious what I spent transforming the motorhome into "my home" versus what it actually required for repairing broken things and mandatory maintenance expenses (oil change, air filter, broken items, etc.).
The Grocery expenses include cleaning supplies, laundry detergent, personal hygiene items, cat food/litter, and various other items purchased when in a grocery store. I am embarrassed by the per-day figure and am working to get this down.
The "Camping Fees" number includes the very few times that I have had to pay for a waste dump and water fill (three times).
So, with all that out of the way, the following are my actual expenses.
| | | | |
| --- | --- | --- | --- |
| Dish TV Service | $549.11 | Per Day: $1.96 | |
| Auto Insurance | $360.00 | Per Month: $40.00 | |
| RV Insurance | $1,350.00 | Per Month: $150.00 | |
| Groceries | $2,635.49 | Per Day: $9.41 | Per Month: $282.37 |
| Dining | $1,158.43 | Per Day: $4.14 | Per Month: $124.12 |
| Auto Fuel | $392.29 | | |
| RV Fuel | $2,289.01 | Per Mile: $0.30 | Per Month: $254.33 |
| Propane | $210.19 | Per Day: $0.75 | Per Month: $22.52 |
| Verizon Wireless | $1,221.14 | | |
| Auto License/Registration | $80.00 | | |
| RV License/Registration | $331.00 | | |
| Auto Maintenance (required) | $0.00 | | |
| Auto Maintenance (enhancements) | $274.00 | | |
| RV Maintenance (required) | $1,093.13 | Per Mile: $0.14 | Per Month: $121.46 |
| RV Maintenance (enhancements) | $1,404.74 | | |
| Camping Fees (excluding work trips) | $1,302.00 | Per Night: $4.65 | Per Month: $139.50 |
| Camping Fees (including work trips) | $2,101.84 | Per Night: $7.51 | Per Month: $225.20 |
| Annual Permits | $309.00 | Per Month: $34.33 | |
| Mail Service | $400.00 | | |
It may be helpful to note that I had a period of about three weeks of cold-ish (to me) overnight temperatures – about freezing – but warm during the day (60).  During this time, I consumed just over 8 gallons of propane.
(Visited 770 times, 1 visits today)